Romantic Anniversary Balloon Bouquet Ideas
An Anniversary Balloon Bouquet is a great alternative to flowers as they last longer and are perfect for someone who suffers from allergies too. (We know that is not the most romantic sentence we have ever written but if you are celebrating your Anniversary in high pollen season, you don't want the sound of your celebration to be sneezing!)
As well as an alternative to flowers they are great to use to decorate your tables at your Anniversary Party or if you are celebrating at home.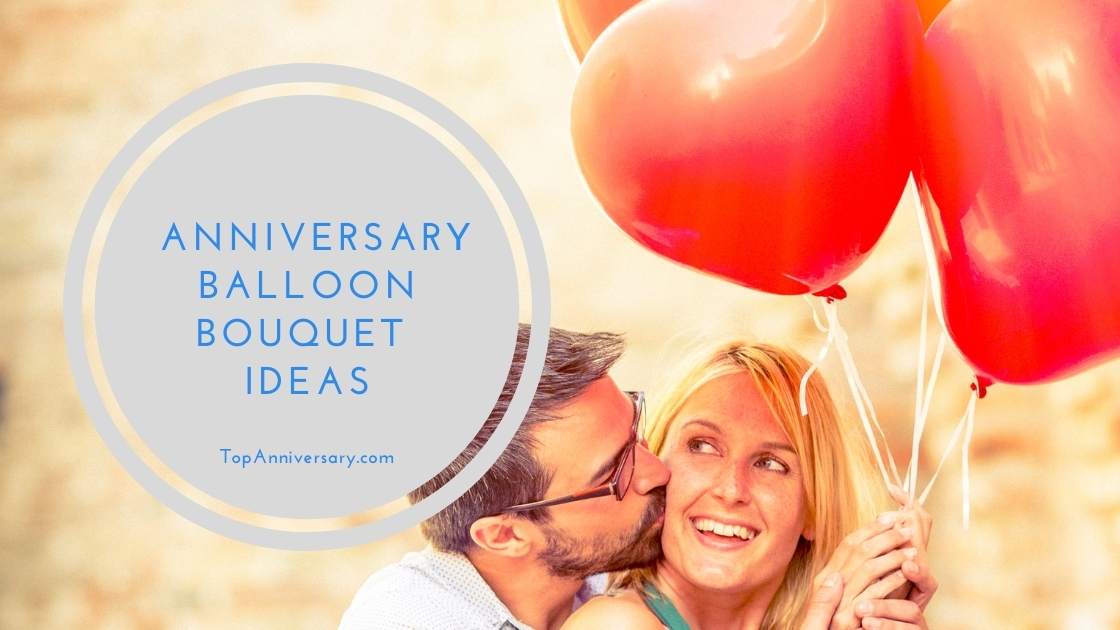 What Is An Anniversary Balloon Bouquet?
A Balloon Bouquet is a number of balloons, normally three or more tied together to create a bouquet.
They can be filled with helium so they float by themselves or you could choose smaller balloons that are on sticks, again these can be tied together with ribbon.
What Are The Best Balloons To Use?
The balloons you choose are important
You may have heard of mylar balloons, this is a brand name and although they look metallic they are transparent plastic with a coating. They look their best for 3-5 days but can last weeks.
Latex balloons are your regular balloon, if you fill them with helium they won't stay up as long as they have a porous surface and the helium escapes.
Foil balloons are exactly that and can last weeks if filled with helium but they will start to look a bit deflated after about a week.
Types of Arrangements
Your Anniversary Balloon bouquets will look best if the balloons are tied at different heights and for a big impression for your Anniversary it is a nice idea to use this year's Anniversary color.
Also have a look for the different mylar balloon designs as there are lots that have Happy Anniversary as well as the correct number too.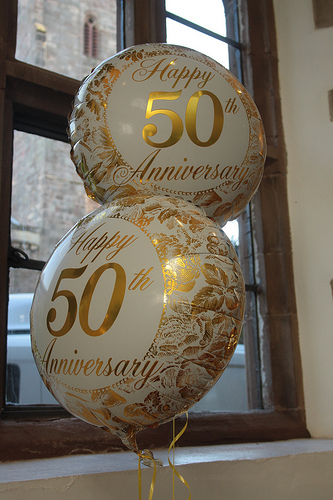 If you are planning to use your Anniversary Balloon bouquet as your gift then you could buy a fun balloon bouquet that has a specialty gift inside the big balloon. Have a look for your local florist or balloon shop as they are the experts that specialize in this as you need a special piece of kit to magically get a gift inside a balloon. A cute cuddly toy in the balloon is the most requested item to include in a balloon but why not use this year's Anniversary symbol and have your bouquet include that.
You could have a scroll with your Happy Anniversary message for your 1st anniversary as traditionally your symbol is paper.
Your 2nd anniversary is traditionally cotton and this could be a cute t-shirt.
You can see all of the Anniversary Gifts here to find this year's symbol that you could use.
Also have a look for heart shaped balloons or those with Happy Anniversary.
A balloon bouquet is a cute gift if you are not with them for the anniversary as you can get the local florist to deliver them for you. You can choose a different delivery date to fit with when you know they will be at home. Equally if you have forgotten your Anniversary they will quite likely have a same day delivery policy that will save you! They may also have an in-store pickup option if you want to surprise them at home with the biggest balloon display.
Anniversary Balloon Decorations
Balloon decorations are a relatively inexpensive way to decorate big spaces for your party and are greater value than floral displays.
You can have balloon centerpieces for your tables instead of or as well as a floral arrangement. All kinds of flowers look good with balloons floating above them! When you design your balloon bouquet for your tables make sure they don't block your guests view when they sit down otherwise they will quite likely move them which you probably don't want to happen.
They also look great tied to the corners of a dance floor or as a backdrop behind the top table.
When you are using helium filled balloons as your decoration you will need something to weight them down with otherwise they will go floating up to the ceiling. You can get special balloon weights form your florist or online from amazon or you can use a plant container or similar container which will do the job perfectly.
---
We deliver Anniversary Gifts to USA & UK, Europe, Australia

Contact Us | Privacy Policy | Affiliate Disclosure|Anniversary Blog
Terms & Conditions | About | Site Map