Custom Wine Labels For Anniversary gifts
Custom wine labels for an Anniversary make a normal bottle of wine extra special, which is just what you want when you are celebrating.
Perfect as part of your gift for parents and friends
Romantic for your partner as you can put anything you would like on the label
Great to put on your tables at your Anniversary Party
Make a fun Anniversary Favor
And the best bit is they are very easy to do if you want to make them yourself.
Anniversary Gifts By Year
Custom Wine Labels are a great Anniversary gift for all years but even more perfect for
If you are celebrating a big Anniversary then creating a custom label with the number and color on is perfect.
Make Your Own Custom anniversary Wine Labels 
Making your own Custom Wine Labels is really easy as there are a number of programmes online that guide you.
Our favorite is Canva and they have lots of Free templates that you can customize to make your own. This is great if you only need a couple of labels.
Start by choosing the template that you want to make your own
This will then open up the wine label in a new tab 
Click on the areas that you would like to add your own personalization, this can be your names and your Wedding Anniversary date
Remove any areas of the design you don't want by clicking on it and then either delete
You can also change the color of the design too by clicking on the area of color you want to change and then clicking on the top left color palette where you can choose the color you would prefer.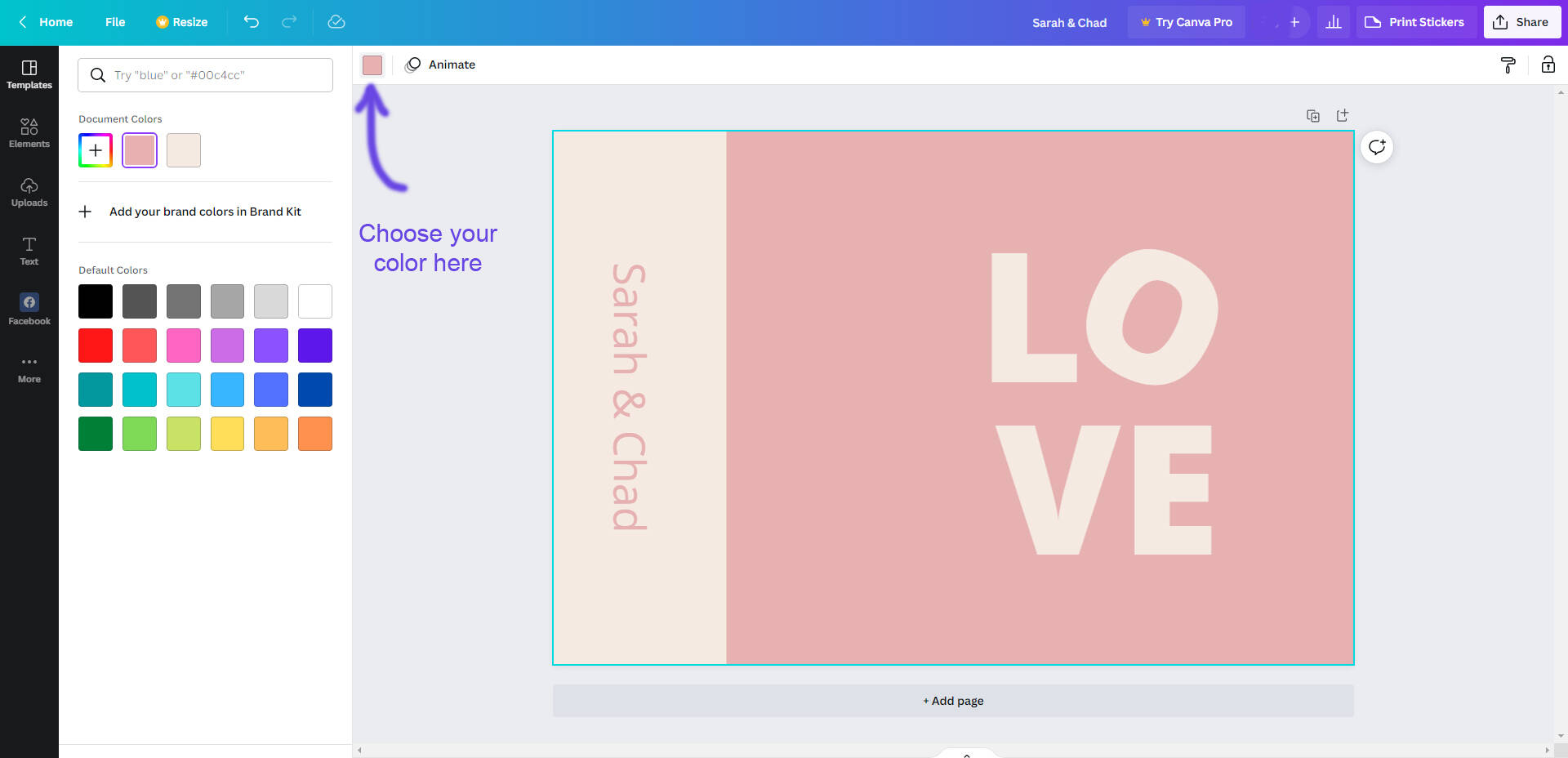 Gold or Orange for a 50th Anniversary label
Silver or Grey for a 25th Anniversary label
If you are not sure what color is this year's Anniversary we have a handy Anniversary color guide here.
What should You Write on Your Anniversary Wine Label?
What you will add to your wine label depends on what you are using it for.
If your wine label is for an Anniversary Gift then you will want to add
their names, 
their Wedding or Anniversary date 
or the year can be instead of the classic vintage year, 
a Happy Anniversary with the number is good for the middle of the label. 
You can even have some fun and add some tasting notes for the wine - 
    "A fruity blend which has developed a strong bond over the last 20 years, best enjoyed with lots of friends"
If your wine label is for the tables at your Anniversary party then you will want to add
If your wine label is for your Anniversary Favor then you will want to add
printing your anniversary wine labels
If you have used Canva to design your labels then you can use their printing service to print anything from 10 labels up to multiples of 100. You can also choose the size of the label - small or large stickers.
The large labels are more likely to fit over any existing wine label that you already have on your wine bottle. This will save you having to remove any wine labels which can be time consuming especially if you have lots to do.
However if you are using the wine labels for your Anniversary favor then the small ones would be better for mini bottles of wine.
If you want to print your own and you only have one or two to do you could just print them at home on to normal paper and glue them to the bottle. This way you don't have to fiddle around with trying to align your printer to print on to sticker paper.
Anniversary Wine Gifts
Your custom wine label will look great on your wine gift which you could add to a hamper of lots of goodies that they love or you could include it with these gifts
---
We deliver Anniversary Gifts to USA & UK, Europe, Australia

Contact Us | Shipping & Returns |Privacy Policy | Affiliate Disclosure|Anniversary Blog
Terms & Conditions | About | Site Map