50th Wedding Anniversary Gift
Inexpensive 50th Wedding Anniversary Gift Ideas

What Is The 50th Wedding Anniversary Symbol?
Gold is the traditional 50th wedding anniversary gift
The gemstone is topaz, the stone of true love and also your 4th anniversary gemstone too.
Violet is the flower of your 50th.
Your 50th anniversary gift does not have to be real gold, instead use the gold color in your gifts to embrace the theme.
Here are some lovely gold themed gifts that will be perfect for your golden couple.
50th Anniversary Gift Ideas
Golden Anniversary Frame

How about finding a beautiful photo of your anniversary couple and framing it in a golden frame.

It could be a photo from their wedding day or it could be from today.

This lovely frame can be personalized with their names and their wedding date plus it is also a photo album too.

If you are having a family get together you could also hire a photographer and have some great photos that you could add with this great gift.
Golden Roses

You could send a bouquet of roses or maybe identical flowers to those from their wedding day.

If you wanted your flowers to last a bit longer then you could send a personalized bouquet.

These are from JustPaperRoses and you can have a date and their names added to each flower.

Or you could choose golden lace roses instead.

Personalized 50th Anniversary Newspaper Book

Looking over the past 50 years will bring back lots of memories for your golden couple.
What better way to do this than by having all of the main events from The Washington Post bound in their very own special edition.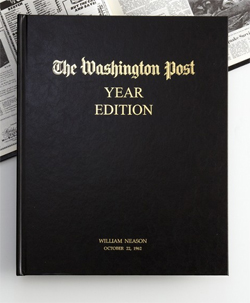 Shop Alternative 50th Anniversary Gift Ideas
Homemade 50th Wedding Anniversary Gift Ideas
Choosing to make your own 50th anniversary gift is a lovely way to make something very personal. 
Some ideas for you;
Gold gift basket filled with their favorite things
A gold framed photo of the family
A gold framed love quote or anniversary poem
A champagne bottle decorated in gold pen - you could even get everyone to sign it
A pot filled with gold flowers
An anniversary quilt
Would love to hear what you decide to make.
Renew Marriage Vows

There is nothing more romantic than renewing the vows that the couple pledged to 50 years ago.
There is no need to break the bank to set-up a lavish church wedding and reception. If you are the child or grandchild of the golden couple, you can set the marriage vow renewal at your house, invite close family and friends, and order some finger food for the reception. You can also ask your family to go potluck. The important thing is to remember and celebrate the anniversary in a meaningful way.
To add pizzazz to the occasion, why not send out invitations that are designed with gold glitters. Set up the wedding venue with violets and golden chrysanthemums tied with matte gold ribbons. Set up the tables with a golden tablecloth and good china and crystal with gold trimmings. Fill the reception area with flowers and candles to set the mood. Remember that the golden couple would be at least 70 years old so make arrangements for that fact - comfortable seats and a not-too-noisy party.
Plan a Picnic

Great, especially if the anniversary falls during the summer months. You can gather some of the golden couple's favorite friends and set up a real fun picnic at a park. Make it a roaring cook-out! Bring out the hot dogs and burgers to grill. Whip up a large tub of that creamy potato salad. Do not forget the crisp greens and options of sauces. Make sure there are tables for the oldies but goodies to sit and eat. Have someone do the grilling for them. Treat the golden couple and their friends as your guests. For entertainment, think of some physical and mental games for them. Remember to take prizes for the winners. Yes, it is like setting up a children's party for grannies and gramps. A picnic is one cheap 50th wedding anniversary gift idea.
Memories are greatly treasured. It used to be that family special events were in captured in pictures and films. The advent of new technology has made it possible for anyone with a good grasp of digital technology can make a video presentation of a compilation of old pictures and home movies. Do this for the golden couple. Look for old pictures and home videos and try to make a video clip of their life as husband and wife, as parents and as grandparents. Set up a home theatre ambiance and invite some close family and friends for the video viewing. Do a short program where you and your siblings and children and some friends can roast and toast the golden couple. Do not forget the popcorn and soda!
Simple 50th Anniversary Ideas
Not every couple loves big gestures and fancy gifts, instead they may prefer a simple gift that they can enjoy together.
A bottle of wine with 50th anniversary glasses
A jigsaw puzzle from their Wedding Day 50 years ago
A gift card for their favorite restaurant
A Gold colored pot plant - chrysanthemums are a good choice or a yellow rose
A box of chocolates wrapped in gold paper
A donation to their favorite charity that they like to support.
A gold colored pillow for their bed
A gold photo frame with your favorite photo of the two of them


---
We deliver Anniversary Gifts to USA & UK, Europe, Australia

Contact Us | Privacy Policy | Affiliate Disclosure|Anniversary Blog
Terms & Conditions | About | Site Map