19th Anniversary Gemstone Gifts

Your 19th Anniversary gift on the gemstone list is the very gorgeous Aquamarine.
A powerful stone that some believe is found in the treasure chest of mermaids which is probably why it is a stone to protect you on your travels on water – perfect if you are planning an Anniversary Cruise this year.
Aquamarine Gemstone Meaning
It really is a stunning stone and protects against gossip while arousing feelings of sympathy, trust, harmony and friendship. Perfect feelings for a perfect marriage, you just couldn't get better than that when you are married to your best friend.
The Best Aquamarine Anniversary Vacations
If you love to travel for your Anniversary then how about taking a trip to where Aquamarine is found; Brazil, Nigeria, Zambia, Madagascar, Mozambique, Afghanistan and Pakistan. Sadly some are not so great vacation spots at the moment but others are.
And as this is the gemstone of mermaids how about a vacation where you include going diving or maybe snorkelling, you never know you may find your own Aquamarine gem just sparkling under the sea!
Aquamarine Jewelry
If you don't fancy taking a trip for your 19th Anniversary then we have lots of choice of some great Aquamarine jewelry that would make a great gift.
Our top tip is the more intense the color the more valuable the stone.
Lots of gorgeous Aquamarine Jewelry on Amazon.
And it's definitely worth a look at the handcrafted Aquamarine items on novica.com
Alternative 19th Anniversary Gift Ideas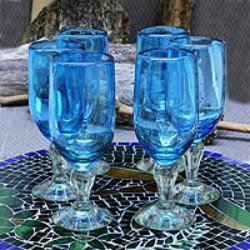 Also think about the beautiful blue of Aquamarine and there are some stunning blue glass pieces. You could have a new set of wine glasses or Champagne glasses to celebrate your Anniversary with.
Alternatively you could choose a bouquet of flowers of the palest blues and maybe even include bronze flowers too as this is the gift on the modern list.
If you wanted your gift to last longer you could choose a rose bush for your garden, flowering every year to remind you of your 19 years together.
On the modern list your 19th anniversary is celebrated with Bronze; meaning that your marriage is stronger and resilient.
Bronze Sculptures

A jar filled with Bronze Coins

Bronze Charms

Bronze Chain

Bronze Chess Set

Bronze Cooking Pans

Bronze Paper Weight

Handcrafted Bronze key ring
And the number nineteen would make a great start to your gifts...
19 roses
19 gifts
or how about a trip 19 miles away? Where would you end up?
Drive or even walk there and maybe take a picnic or choose a great restaurant on the way.
Whatever you choose to celebrate your Anniversary we hope you have a fabulous time.
---
We deliver Anniversary Gifts to USA & UK, Europe, Australia

Contact Us | Privacy Policy | Affiliate Disclosure|Anniversary Blog
Terms & Conditions | About | Site Map