Anniversary Gifts › Modern › 19th

19th Anniversary Gemstone Gifts

Your 19th Anniversary gift on the gemstone list is the very gorgeous Aquamarine.
A powerful stone that some believe is found in the treasure chest of mermaids which is probably why it is a stone to protect you on your travels on water – perfect if you are planning an Anniversary Cruise this year.
It really is a stunning stone and protects against gossip while arousing feelings of sympathy, trust, harmony and friendship. Perfect feelings for a perfect marriage, you just couldn't get better than that when you are married to your best friend.
If you love to travel for your Anniversary then how about taking a trip to where Aquamarine is found; Brazil, Nigeria, Zambia, Madagascar, Mozambique, Afghanistan and Pakistan. Sadly some are not so great vacation spots at the moment but others are.
Aquamarine Jewelry
If you don't fancy taking a trip for your 19th Anniversary then we have lots of choice of some great Aquamarine jewelry that would make a great gift.
Our top tip is the more intense the color the more valuable the stone.
Here are our favorites;
Alternative 19th Anniversary Gift Ideas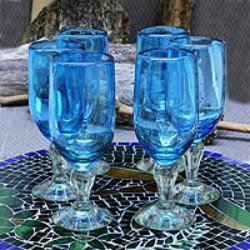 On the modern list your 19th anniversary is celebrated with Bronze;
Bronze Sculptures
A jar filled with Bronze Coins
or use the colors of Bronze and Aquamarine to find the perfect gift.
Bronze Charms
Bronze Chain
Bronze Chess Set
---
Find Your Perfect Anniversary Gift
Contact Us | Privacy Policy | Affiliate Disclosure| Terms & Conditions | About | Advertise With Us | Site Map