15th Wedding Anniversary Gift
Modern 15th Wedding Anniversary Gift Ideas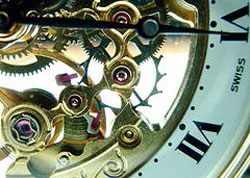 Your 15th wedding anniversary gift is celebrated from the modern anniversary list with a watch.
Romantic watches that are worthy of your 15th wedding anniversary are those that have a personal touch and the great thing about watches is that there really are styles to suit every taste.
A great watch that will last will be a daily reminder of celebrating 15 years together, even when you are celebrating your 50th!
Modern Personalized Watches

A classic personal watch is to have the back engraved with your very own message,

it could be your wedding date and with love 
a love quote
or a shared joke. 
Just remember the back of a watch is not that big!




Modern Designer Watches


If they are into a particular designer or sport then these both have great watches and if you can't find the exact watch you are looking for take a look at vintage.

Classic designer watches will hold their value if they are looked after, just think TAG Heuer, Rolex, Fossil, Bulova, there are lots.
Modern Crystal Watches


Love the idea of combining the traditional and modern lists? A crystal watch would be the answer!

There are lots of fabulous watches at Swarovski.
You could always look to have a matching watch set, your very own Mr and Mrs in watches, and don't just think that a matching set will be old fashioned as there are a lot of designer watch companies that make similiar watches for men and women. Just think of all the sports watches there are now.
And if the love of you life is more traditional take a look at a classic pocket watch for the men and a dainty dress watch for the ladies.
Personalized Watch Boxes
However if your other half is into watches in a big way then they either know the next watch that they want to get or they may just need their very own watch case.

Just love the fact that you can also get personalized cases too! 
If you look to the other anniversary lists; the traditional anniversary list is crystal, the gemstone anniversary list has rubies as the stone and the flower anniversary list has roses.
You could incorporate rubies and crystals into your anniversary watch and we all love to receive flowers especially roses on our anniversary.
Lots of rose growers have very thoughtfully names their roses with romantic names; Kiss Me, Love Rose and Pretty Lady are all real names of roses that you can buy at Naturehills, take a look at their roses, they have lots.
Or you could look to a beautiful crystal rose for your 15th anniversary.

A bouquet of flowers that will last forever.

Available from Just Paper Roses.

---
Contact Us | Privacy Policy | Affiliate Disclosure|Anniversary Blog
Terms & Conditions | About | Advertise With Us | Site Map