If you are looking for a fabulous 15th anniversary gift take a look at the gemstone list. The 15th gift is the gemstone Rhodolite Garnet.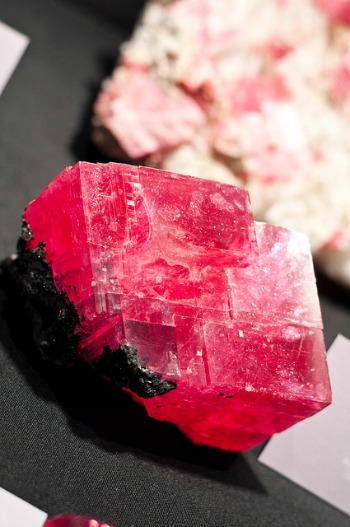 The stones' colors vary from deep red to a rose pink and there are some gorgeous pieces of jewelry that have been created that would make a great gift for the love of your life.
If your stone is set in silver it will enhance the purple tones of the stone and set in gold it will bring out the red, both look fab.
Lots of gorgeous Rhodolite Garnet's on Amazon
And lots of gorgeous handcrafted Rhodolite Gemstone Gifts on novica.com
Or if you are feeling extravagant you could gift a bag of loose gems that way they can choose how their anniversary gift looks.
The History Of This Sparkly 15th Anniversary Gift
Gifting this stone and you will be part of history as Rhodolite Garnet has been used for thousands of years, dating back to the Ancient Egyptian Pharoahs. The Greeks even believed that if you hung it round your neck you would be able to see in the dark.
More recently Rhodolite Garnet has been used by Faberge, it was popular in Art Deco pieces and it has also been a popular stone for an engagement ring.
Include Your Gemstone Gift As Part Of Your Anniversary Vacation
The stone is also thought of as the travellers stone which would also work well for an anniversary vacation.
You could go searching for your own Rhodolite, where your travels would take you to Brazil, Burma , China, Kenya, Madagascar, Mozambique, Sri Lanka, South Africa, Tanzania, the USA and Zimbabwe. That is quite a bit of choice!
Alternative 15th Anniversary Gifts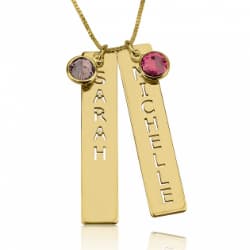 Personalized Couples Pendant
$69.95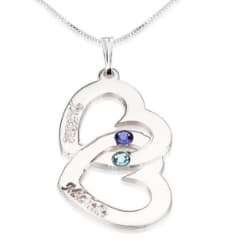 Personalized Heart Pendant
$59.95

Other 15th Anniversary Gift Symbols
Traditional 15th Anniversary Gift symbol is crystal
The Modern 15 Year Anniversary Gift is a watch