15th Wedding Anniversary Gifts for Husband
15th Wedding Anniversary Gifts For Your Husband
Your 15th wedding anniversary is a great time to show your husband how much he means to you and for your 15th your gift would traditionally be made from crystal, here are fabulous manly gifts!
Shop 15th Anniversary Gifts For Your Husband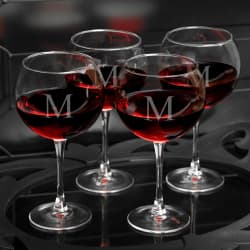 Monogrammed Wine Glasses
$44.99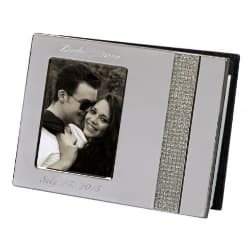 Engraved Crystal Photo Album
$59.95
Crystal Glassware

Crystal tumblers for his whisky or a glass for his beer - whatever your husband's favorite drink is after a hard day at work, add a crystal decanter to the set and you have a gift that will be treasured forever.
Rather than just giving the gift of crystal you could also treat him to a wine tasting or a whisky tasting, choose something that you will also enjoy!
Make your gift even more unique by having it engraved with your husband's initials or your wedding date. There is a lot of choice in our Anniversary Gifts Store.

Binoculars
Optic crystal is used to make the lenses in binoculars and cameras. If your husband is already passionate about bird watching or photography then these gifts would be a perfect addition to his collection.
Lots of Cameras and Binoculars at Amazon
Crystal Paper Weight

How about a reminder of you on his desk at work or at home? This beautiful crystal paper weight is stunning and also very practical, just like you. It is etched with "Happy 15th Anniversary" Lots more crystal gifts at Just Paper Roses
Watches
You also have the choice on your 15th wedding anniversary of your gift from the modern anniversary list and that is a watch. You could have the dates of your wedding engraved on the back or a personal message just for your husband - remember there is not much space! You could add a romantic quote to the box.
"I want you for always... days, years, eternities" Franz Schubert
Available to buy in our Anniversary Gifts Store
If you are really into treating your husband how about combining your crystal gift with an anniversary vacation, you could go on a tour of the Scottish highland whisky distilleries, wine tours in California, France, Spain, Italy, South Africa or Australia, Port tours in Portugal. There are loads of places that you could go to enjoy your 15th anniversary.
Alternatively, you could buy him his very own Personalized Whisky Decanter Set available in our Anniversary Gifts Store today.
Alternative 15th Wedding Anniversary Gifts
Your 15th anniversary is also celebrated with the gemstone anniversary list and rubies, this is something that you could incorporate into your watch gift or a beautiful ruby red wine or port to enjoy with your decanter or new glasses.
If your husband is into gardening then the anniversary flower is the rose. You can get some great anniversary roses that are named after particular anniversaries, or you could get a cheeky rose called "kiss me" which is a very cute wedding anniversary gift!
Naturehills have loads of different roses with great names for an anniversary! Take a look at their roses.

---
Contact Us | Privacy Policy | Affiliate Disclosure|Anniversary Blog
Terms & Conditions | About | Advertise With Us | Site Map