11th Anniversary Gemstone
11th Anniversary Turquoise Gifts
Your 11th anniversary gemstone is Turquoise, a powerful and strong stone that has been used for thousands of years for protection. 
It also has strength in romance too with Turquoise promoting romantic love and spontaneity. Romance and spontaneity sound perfect to celebrate 11 years of marriage.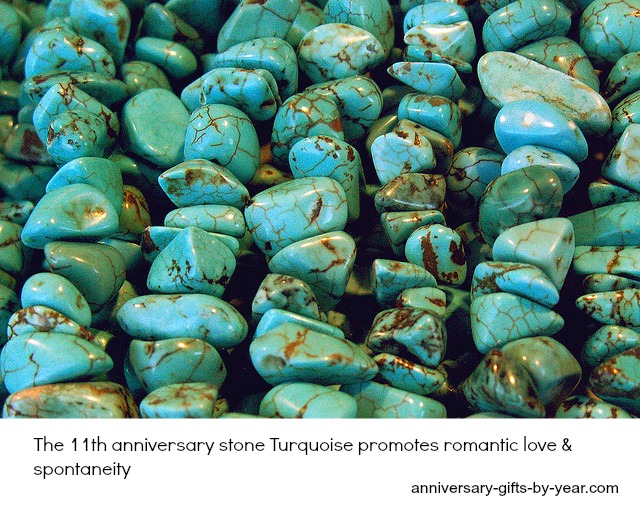 Turquoise first came to Europe from Turkey, which is why it is called turquoise as it comes from an old French word for Turkish.
Given with love Turquoise is also believed to bring good fortune and an old Eastern proverb states;
"A turquoise given by a loving hand carries with it happiness and good fortune." Source: Diamonds, Pearls and Precious Stones by Smith.
Alternative 11th Anniversary Gemstone Gifts
Turquoise has such a gorgeous and intense color and some believe it represents heaven on earth.

For us the turquoise color represents the beautiful blue sky and clear blue sea you find on some of the best vacation spots all around the world, from the Caribbean to the Mediterranean sea, with quite a few favorite places in between.

Just think what a fantastic time you would have relaxing on a Turquoise inspired vacation?

There are a number of gifts which we have included above that use the gorgeous color from leather to paintings.

Or on the traditional anniversary list you celebrate

11 years with steel

and there are lots of alternative gift ideas.

Or on the modern list you would be celebrating with fashion jewelry, how about mixing the color turquoise with your jewelry? Tiffanys springs to mind for the ultimate combination of all of the symbols – and yes they do steel pieces too.
Happy 11th Anniversary
---
Contact Us | Privacy Policy | Affiliate Disclosure|Anniversary Blog
Terms & Conditions | About | Advertise With Us | Site Map