Modern 30 Year Wedding Anniversary Gift
30 Year Wedding Anniversary Gift Ideas
From The Modern List
A 30 year wedding anniversary gift from the modern list is diamonds! No longer are diamonds just for 60 years of marriage, and this way you could get more matching pieces in another 30 years! If you have been following the modern anniversary list then you could also have been celebrating with diamonds on your 10th anniversary.
Diamonds are great if you are receiving them but expensive if you are the gift giver! Your 30th anniversary is also celebrated on the traditional anniversary list with pearl anniversary gifts. Saying that your 30th is traditionally pearls and they are not a cheap anniversary gift!
Shop Diamond 30th Anniversary Gifts
Diamonds are a beautiful gift that will last forever, there are stunning pieces of jewelry, you could even have matching diamond rings or watches or pendants, even earrings! Quite often if you were not able to afford the engagement ring of your dreams all those years ago you maybe able to now, or an eternity ring is another great anniversary ring.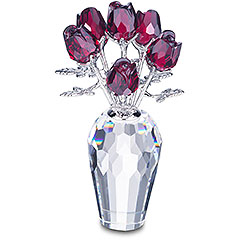 You can also find some great diamond alternatives, the most widely found is cubic zirconia, it sparkles brilliantly and you can get beautiful pieces.

Another alternative are crystals, Swarovski crystals are again beautiful and they have put crystals on nearly everything - you are bound to find a gift to suit here.
If your budget won't stretch to diamonds there are lots of flowers and especially roses that have been named the diamond anniversary rose, or you could have a bouquet with sparkling crystals added to the center of the flowers.
Have a great anniversary!
---
We deliver Anniversary Gifts to USA & UK, Europe, Australia

Contact Us | Privacy Policy | Affiliate Disclosure|Anniversary Blog
Terms & Conditions | About | Site Map