5 Year Wedding Anniversary Gift
5 Year Wedding Anniversary Gift Ideas In Rose Quartz
Your 5th anniversary is traditionally celebrated with wood and on the modern list with silverware.

If you are looking for a romantic and pretty gift take a look at the gemstone anniversary list where you celebrate 5 years of marriage with Rose Quartz.

What Is The 5th Anniversary Gift Meaning?
Rose quartz is a lovely pink quartz it is considered to be the love stone and it helps that the color pink is a great romantic color!
It is also considered to help with inner peace and encourage self love, this stone is symbolic of unconditional love. Plus the Egyptians believed it prevented aging and the Romans used it to make seals as a sign of ownership and they used it as a healing stone too.
It is also believed that it helps aid relationships within the home by placing it in the South West corner of your home. You can also do the same in the South West corner of your bedroom to ensure a great relationship within your marriage.
Some believe if you place it under your pillow it will bring passion and love to your relationship - just make sure it is a small piece or you might not get a good nights sleep!
Rose Quartz
The pink quartz has also been a favorite among many kings and queens,
the Chinese Empress Dowager Cixi loved it so much she had a ton of Rose Quartz in her private collection.
And King Ludwig II of Bavaria was also a great fan, he was even lucky enough to have deposits of Rose Quartz within his Kingdom.
The main countries that mine the mineral now are the United States, India, Brazil, Africa, Australia, Canada, England, Germany, Madagascar and Scotland. It is the State mineral of South Dakota.
You could plan some great anniversary vacations in these countries and have fun finding your own Rose Quartz!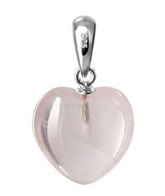 So Rose quartz is a great stone to have as a gift and even more perfect if it is your 5 year wedding anniversary gift! Who wouldn't want a gift that is the stone of love and as an added benefit makes you look younger too? Count me in!
As Rose Quartz is considered to be the stone of unconditional love and have healing properties it is a great gift to give the love of your life, and there are lots of gifts to choose from, here are some of our favorites for an anniversary gift.
Rose Quartz 5th Anniversary Gifts
Lots of gorgeous handcrafted Rose Quartz gifts from novica.com
and also at Amazon.com  
---
We deliver Anniversary Gifts to USA & UK, Europe, Australia

Contact Us | Privacy Policy | Affiliate Disclosure|Anniversary Blog
Terms & Conditions | About | Site Map