1st Year Anniversary Gifts for Couples
1st Year Anniversary Gifts For Couples

It's your 1st Anniversary and rather than looking for an Anniversary gift for your wife or your husband why not share a great gift.
We have lots of great Anniversary Gifts for couples and ideas to help you plan your very first Anniversary.
This 1st year your Anniversary Gifts are ...
Traditional - paper
Modern - Clocks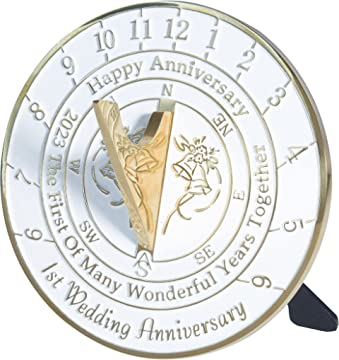 1st Anniversary Sundial
Writing all of your memories from the past 12 months is a lovely way to remember your first year together as husband and wife.
This book is personalized with your names and wedding date.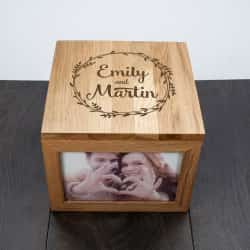 Anniversary Photo Box
$69.99
Have all of your favorite photos from the past year displayed in this photo box. 
Plus there is space to store souvenirs inside.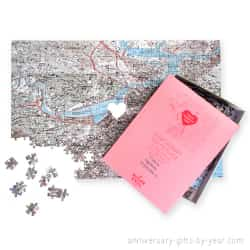 Where We First Met Jigsaw Puzzle
$59.95

This jigsaw puzzle is centered on the place you first met or you could choose to have where you were married.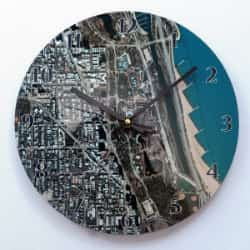 Favorite Place Clock
$69.99
This Anniversary Clock shows your favorite place.
It could be where you met, were engaged, were married or where you both love to go.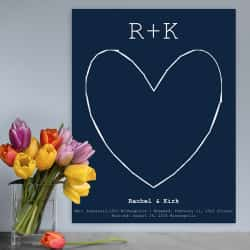 Your Love Story On Canvas
$79.99
All of your important dates on your customized canvas.
Where you Met
Were Engaged
And were Married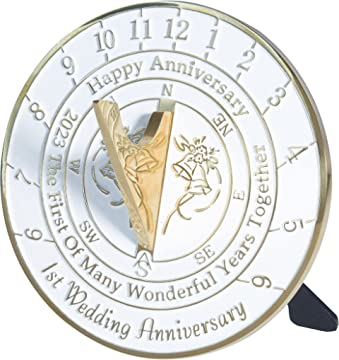 1st Anniversary Sundial
This Personalized 1st Anniversary Book has a copy of the newspaper from your Wedding Day and has space for you to add photos and memories of your first year together.
Top 1st Anniversary Fun Days
As your Anniversary is special in that it is the first of many so why not think about doing something special, just the two of you?

Go for an activity that neither of you have tried before, that way you will both be as good as each other to start with!? Scuba diving, riding, wine tasting, going to the theatre or seeing a ballet are all things that you may not have tried yet.
This is one of those opportunities in life to try something new and there are lots to choose from, here are just a few that are available from Great American Days!
The tickets for these experience days helps with the paper theme and it is romantic doing something together for the first time. You could spend the day doing something exciting and then have the evening for a romantic meal at your favorite restaurant.
Many couples like to return to the place where they met, or where he proposed or where they spent their wedding night, if this is at a restaurant then you could ask if you can have the same table or the same room where you stayed. On our 10th anniversary we stayed at the hotel we spent our wedding night at, this time round we were able to treat ourselves to the room that we really wanted.
If you are looking for a more peaceful celebration, pack up your favorite picnic and go for a romantic walk or drive to your favorite place, here are some beautiful picnic bits and pieces that would be great for your celebrations.




Paper Picnic


This is a great picnic set for your 1st anniversary as not only is it in paper and fits with the theme it also has "Happy 1st Paper Anniversary" printed on it. It is sent in a cakebox you just need to add the food! The sets are for two or for four people depending if you are planning on inviting anyone! Or you could always have two picnics just for the two of you!
Read More at JustPaperRoses.com
Picnic For The Two Of You


Your very own picnic hamper for just the two of you, with everything you need for a romantic day out together. 

Check out more picnic hampers for you to enjoy a romantic day together.
Or if you have a shared passion or hobby and there is something that you both want to do then go for it. You will always remember your 1st anniversary if you do something memorable.
Are you both fans of the same team? Then how about getting a stadium tour, or treating each other to season tickets or vip tickets?
Or if you love a band and would give anything to see them why not treat yourselves to tickets for their next concert or tour?
You may not be able to go out on your 1st anniversary but that doesn't stop you celebrating, it could be cooking your favorite meal together or enjoying a cosy night in curled up on the sofa looking at photos from the past year.
Make Your Own Fun Day Tickets
And if you still want to go with the ticket theme for your anniversdary gift but can't get out why not make your own tickets?

Or there are some great romantic and sexy coupon books available here!

Enjoy your first anniversary, full of great memories to last a lifetime.
Canvas Prints

Another way to remember your 1st anniversary is to choose a picture together to have at your home. You could choose to have a photo of the two of you or picture that you both love.


You could have a very personal canvas like the ones below, they are all available in our Anniversary Gifts store today.

Click on the images to find out more.



And these fab canvas below are available in our own Anniversary Gifts store...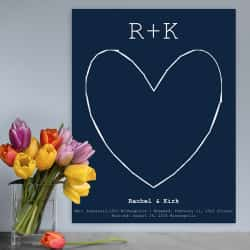 Your Love Story On Canvas
$79.99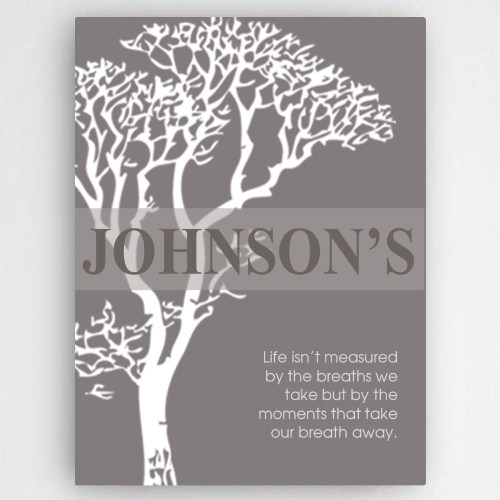 You Take My Breath Away
$69.99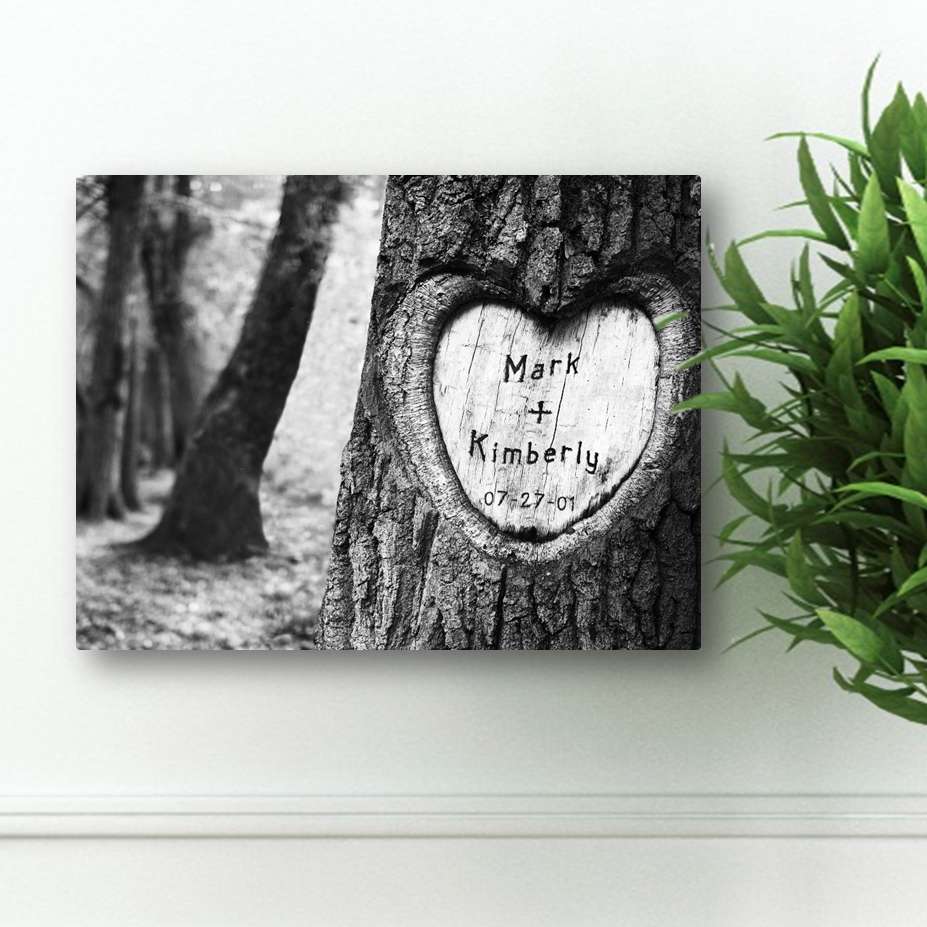 Personalized Love Tree
$64.99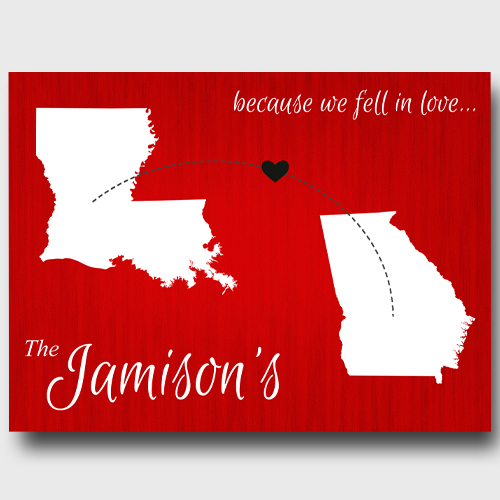 Because We Fell In Love
$69.99
---
We deliver Anniversary Gifts to USA & UK, Europe, Australia


Contact Us | Privacy Policy | Affiliate Disclosure|Anniversary Blog
Terms & Conditions | About | Site Map