What Anniversary Do You Upgrade Your Wedding Ring?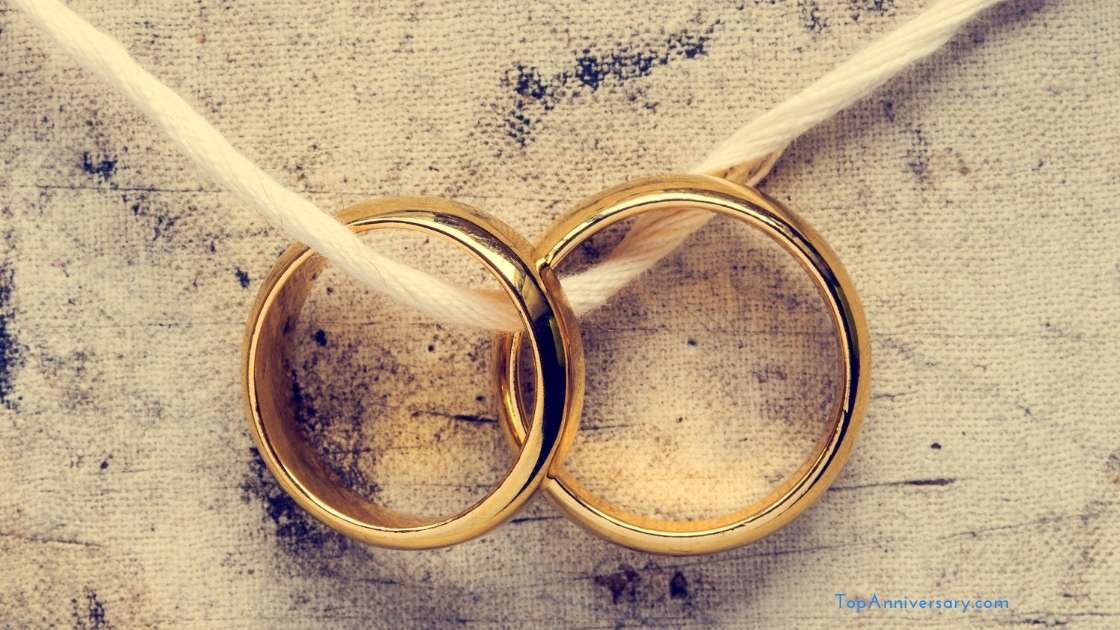 There are a number of reasons why you might want upgrade your wedding band
The original ring has broken
Or it no longer fits it's too big or it is too small
You may have accidentally lost it
Some of the precious stones have come loose or fallen out or it is irepaireable
You may no longer like the design of your wedding ring and your personal style has changed.
You may no longer wear your original engagement ring and therefore you may want something a bit more sparkly like a diamond ring to wear every day.
Your original wedding ring was part of a set and the wedding band may look a little odd by itself if you have a one that fitted neatly next to your large stone engagement ring.
You are planning on renewing your wedding vows on your Anniversary and would like a new wedding band for this, making it the perfect opportunity and the perfect anniversary gift.
You had an engagement ring upgrade and now would like your wedding ring to match.
Your original wedding band was a family heirloom and you think it is a good idea to have a new ring for every day use that you don't have to worry about.
You are about to start a new life together or life has treated you both very well and you want to celebrate. Young couples can't always afford the rings that they would like when they get married and your Anniversary is a great opportunity to choose the particular ring that you want to wear.
You are both more committed to each other as you have navigated through the years of marriage and want to celebrate your love for each other and a great way to do just that is with a new commitment to each other.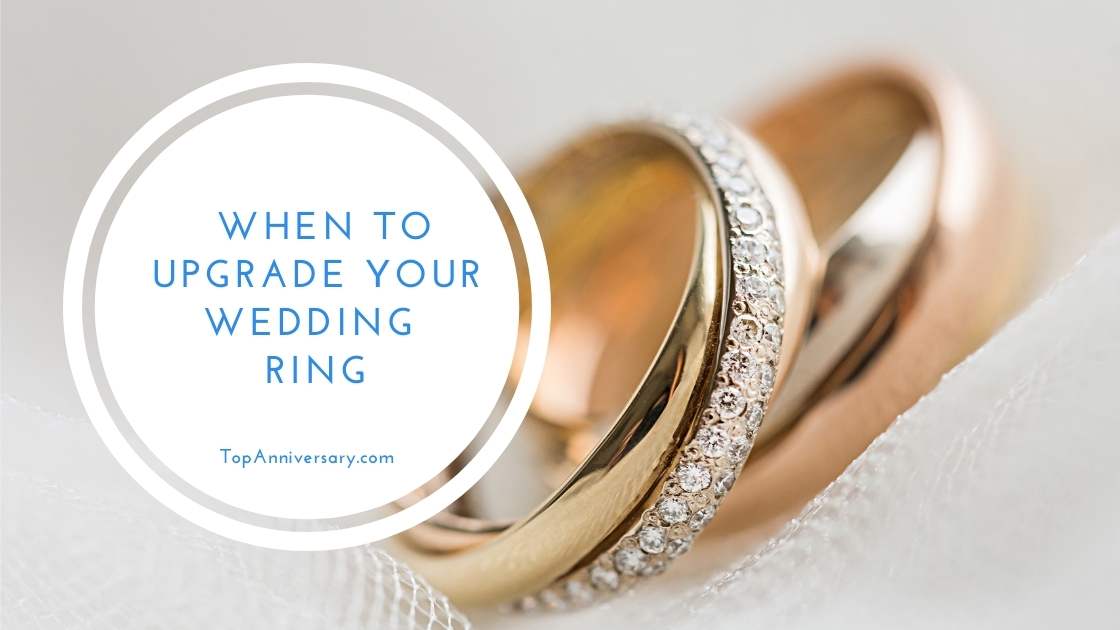 Popular Milestone Anniversaries To Upgrade Your Wedding Ring
Choosing an Anniversary to upgrade your wedding ring makes it even more special.
However, saying all of that, there are no set rules, there is no right time or wrong time and there isn't a specific milestone Anniversary that you have to upgrade your wedding ring on, your wedding ring is a symbol of the vows that you both said on your wedding day the complete circle and commitment to each other. It has sentimental value and represents your eternal love it is not just a piece of jewelry it is much more than that.
You also don't have to wait for a milestone Anniversary as every Anniversary is important, you want to celebrate every year of your marriage but you don't have to change your wedding band every year. You may want to do this if you have had a difficult year and want to show each other how important they are to you.
Equally just because you are upgrading your wedding ring you can still wear the original. You could wear your new wedding band on your right hand instead of your left or wear them as a wedding ring stack all together.
Different Types Of Rings To Choose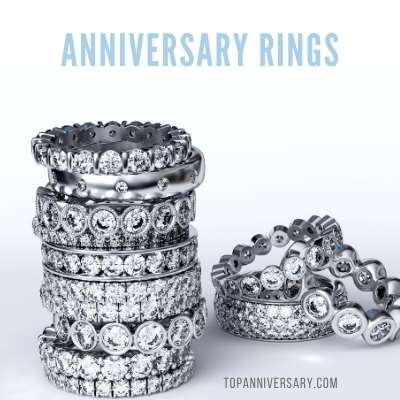 A new wedding band will have special meaning to the both of you, it will be a special moment when you choose to celebrate your love with a new wedding ring and there are lots of options when it comes to choosing a new type of ring. It will be a good idea to try on lots of different rings on your right ring finger to see see what they look like with your current ring and engagement ring. You may even fall in love with a new engagement ring too!
There is a lot of choice when it comes to wedding rings, you can really choose any material or different metal you would like that fits better with you now. The material you choose will be the one that best fits with your style, your engagement ring and you may want to look at the durability of the metal if you work with your hands.
Plain gold rings, gold is the most popular material for wedding rings
Platinum ring, platinum used to be reserved for royalty only
Diamond ring
Stone rings
Gemstone ring
A new wedding set, you would have a completely new wedding ring and engagement set or you could have matching wedding bands.
An Eternity band which is when the stones are all the way round the ring
Have a unique anniversary ring made with your original center stone possibly from your engagement ring or from a family heirloom piece
Vintage anniversary rings
Wooden carved rings
Tungsten or Titanium rings are also a great idea for those that work with their hands every day as the metal is much stronger, or a popular option at the moment is a silicon wedding ring which comes in lots of different colors - you could almost have one for every outfit.
Palladium rings are also gaining in popularity as they are cheaper than gold and lighter too.
You could even have your wedding rings tattooed 
As well as the material and look of your new wedding band you could also look to make this ring unique to you both by engraving the ring with your wedding date.
Wedding Ring Upgrade Etiquette
There are no set rules, however by deifinition an upgrade normally means you are looking at a more expensive ring than your original or one that has better decoration.
If you are looking at plain gold bands you may want to look at one that is engraved or is a higher quality of gold.
If you are upgrading a diamond wedding band then you may want to look at a larger diamond.
Equally including a diamond anniversary band in your stack of rings will upgrade thw whole look.
You may want to renew your wedding vows at the same time as upgrading your wedding ring and your Anniversary is a special occasion where this would be the perfect way to renew your vows to each other. After many years of marriage remembering why you love being together and your commitment to each other, a vow renewal ceremony is a great time to write new vows.
Or you may prefer to give each other your new wedding bands in private and then go out to celebrate in you favorite restaurant or enjoy going back to all the different places you have loved to be together. You could make your own private ceremony just the tow of you where you can say exactly what you want to say to each other from the heart.
Alternatives To Upgrading Your Wedding Ring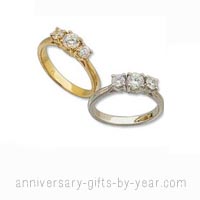 Your wedding ring will have a huge sentimental value to you and means so much so that instead of upgrading it and then the original wedding ring sitting in a draw somewhere you could enhance it with a ring enhancer, this is a ring that's sole purpose is to make the rest of your rings look more sparkly and wraps around your existing rings. These are available today from lots of online jewelry stores and also amazon. It is a simple way to keep your romantic head happy with your old ring but equally make it look even better.
You could also add another ring, possibly a Wedding Anniversary ring which you can wear on your ring finger or on the other hand. There are lots of gorgeous Anniversary rings, the three diamond ring represents your past, your present and your future together and this is a popular choice to celebrate any year anniversary.
An eternity ring represents your love continues for eternity and this would also be a great alternative.
Or you could look at upgrading your engagement ring instead, this could be by changing it to a new center stone maybe a larger diamond or a style of ring that you have always admired.
You can also have your wedding ring engraved
You could even use the metal and stones from your existing ring and have them redesigned into someting spectacular.
---
We deliver Anniversary Gifts to USA & UK, Europe, Australia

Contact Us | Privacy Policy | Affiliate Disclosure|Anniversary Blog
Terms & Conditions | About | Site Map