Gifts With Passion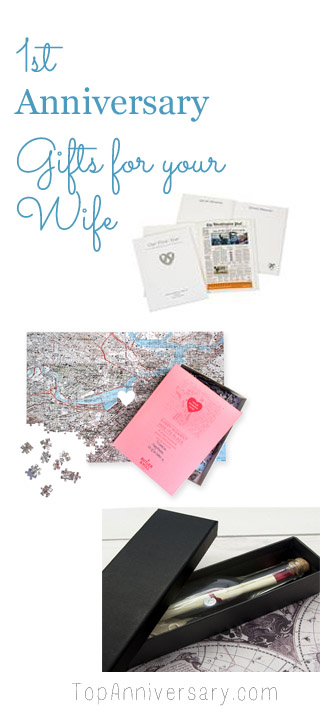 If you know that your wife has a passion for watching plays or theatrical productions, buy a couple of tickets and take your wife to watch a show. It might be that she loves watching movies. Gift her with a year's pass at the local movie house, your company and popcorn included. If she loves to go bowling or dancing, promise her a year's worth of once a month bowling or dancing.
If your wife is a regular bookworm, gift her with the latest publications of her favorite authors. Buy her a subscription of her favorite magazines. If she is into knitting or cross stitching, buy her new patterns complete with threads and yarn. These gifts are not expensive but the meaning behind these gifts is what is important.
1st Anniversary Gifts That Make Her Queen For The Day

More often than not, women prefer tender-loving-care more than material gifts. Make your wife happy by writing out coupons that is good for a special massage (by you) or a dinner for two at her favorite restaurant. You can write out coupons for doing the dirty dishes, doing the laundry or cleaning the house. You can also write coupons for a walk in the park, or for home-cooked meals. Use your imagination as only you know what makes your wife tick. A gift that entails your time and talents will be more appreciated.
There is nothing cheap about these 1st anniversary gifts for your wife. They might not cost a ton of money but the thought behind each suggested gift is priceless. Keep the promises and vows that you said on your wedding day a year ago. Your wife will love you more as you declare and emphasize your love for her.
For a super special gift there is also the gemstone list, where you celebrate with pearls for your 1st anniversary.