Golf Themed Anniversary Gifts By Year
If your husband or wife loves to play golf they will love this selection of golf gifts that fit with each year's traditional theme.
And trust us we had such fun researching and writing this Anniversary Gift list with all of it's golfing puns and gadgetry.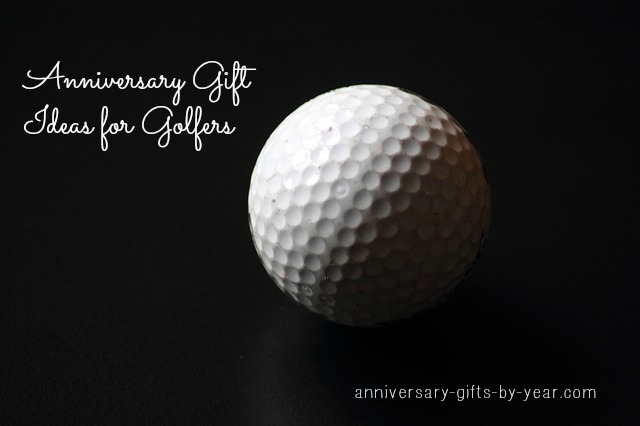 1st Anniversary is traditionally paper and we thought either
a fun framed golfing cartoon - we found lots on Etsy
or a photo of the two of you playing, 
or a painting of their favorite course 
or a book of all the best golf courses in the world. You could visit them on your next anniversaries!
2nd Anniversary is cotton and there are some rather smart golf tee bags or even a golfing t-shirt.
3rd Anniversary is leather and for this you could treat them to a new golf glove or maybe even some new golf shoes.
Your 4th Anniversary is celebrated with linen which could be a smart new pair of golfing trousers or a linen tote to carry those extras you need. Or dare we say it a framed cartoon of a classic "Fore!" moment.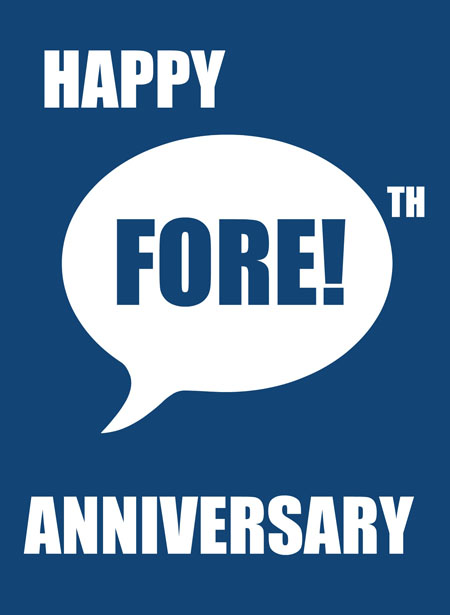 Download this free printable 4th Anniversary card here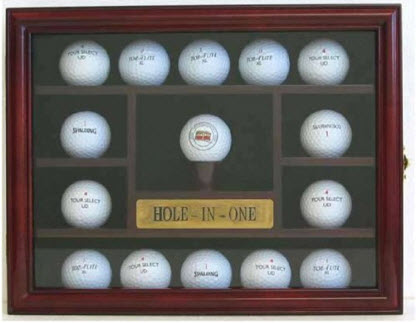 Your 5th is wood and these could either be a traditional set of wooden tees or a new wood for the golfing bag.
Or this very stylish Golf display cabinet for their collection of famous Hole in One golf balls they own!
Or at least space for when they do get one. ;-)
Your 6th is iron, I am not kidding, how neat is that?!
It's almost as if the Anniversary Gift list was written for golfers!
Our suggestion would be a new iron for the golfing bag because when else are you going to get the chance to gift such an appropriate gift?
It is also candy too, so you could have a bag of their favorites ready for their next round.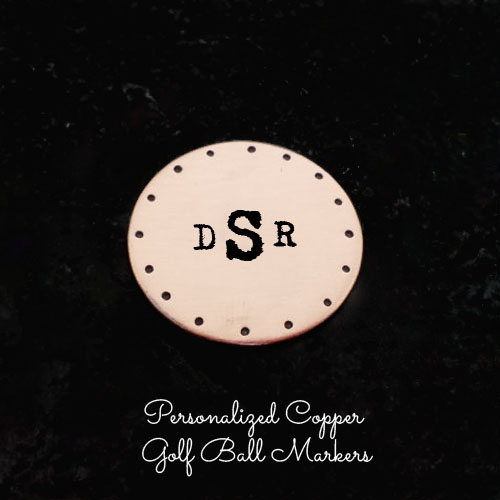 7th anniversary is copper and for this how about their very own set of of copper golf ball markers.
Plus some new golf balls too - we think you can never have enough of those.
8th anniversary is bronze and for this it has to be a classic bronze golfing statue.

9th anniversary is pottery and oh my, there is a world of funny and not so funny golfing mugs for you to choose from.
10th is tin and for this we thought you could put together their very own Golf survival tin, or a new tin filled with golfing tees, markers and other bits and bobs.
11th is steel and we believe that it is quite traditional to have a small drink at the 19th hole or whichever is your favorite, this year maybe it should be the 11th?
This personalized steel flask would be perfect for that.

12th is silk and a silk tie or silk scarf for a meeting in the clubhouse would be good.
13th is lace and to be honest we struggled with finding a themed gift for this year, until we realized that most golf shoes need laces. Hmm, think we can hear the groans from here on that one!
14th is ivory and we went with the color for this year, and a new set of personalized ivory golf balls.
15th is crystal and maybe a crystal trophy for the best golfer in your house ;) or a crystal glass to enjoy a tipple in the club house after an Anniversary round of golf.
Your 20th Anniversary is traditionally celebrated with china, which if you are looking for a themed gift how about a trip to enjoy one of the many golf courses in China? The number 1 golf course in China according to Golf Digest is the Spring City G. & Lake Resort, Kunming.
Your 25th is silver and for this there are quite a few silver golfing accessories to choose from; flasks, ball markers, pens.
The next big anniversaries are celebrated with gemstones that don't really fit too well into the golf theme but we are sure you could find something in the Anniversary color that would be perfect.
Although did you know that you can get 24K Golf Balls!!!??? 
Proof is below...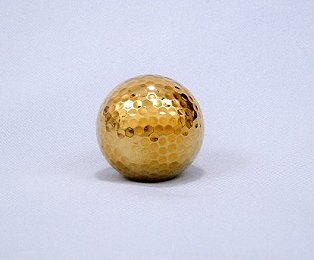 Wishing you the best Anniversary filled with at least one round of golf and let us know what gift you choose, we would love to hear how our list helped.

---
We deliver Anniversary Gifts to USA & UK, Europe, Australia

Contact Us | Privacy Policy | Affiliate Disclosure|Anniversary Blog
Terms & Conditions | About | Site Map