Boating Anniversary Gifts By Year
We have lots of Boating Anniversary Gift Ideas for sailors, perfect if you and your husband, wife, friends and parents love to spend time on the water.
They will love this selection of boating gifts that fit with each year's traditional theme.
Life can't get better than spending time on the water together and whatever the size of your boat from dinghy to super tanker - just kidding we know that one stays at home, here are lots of Anniversary gifts that will inspire you that fit with each year's theme.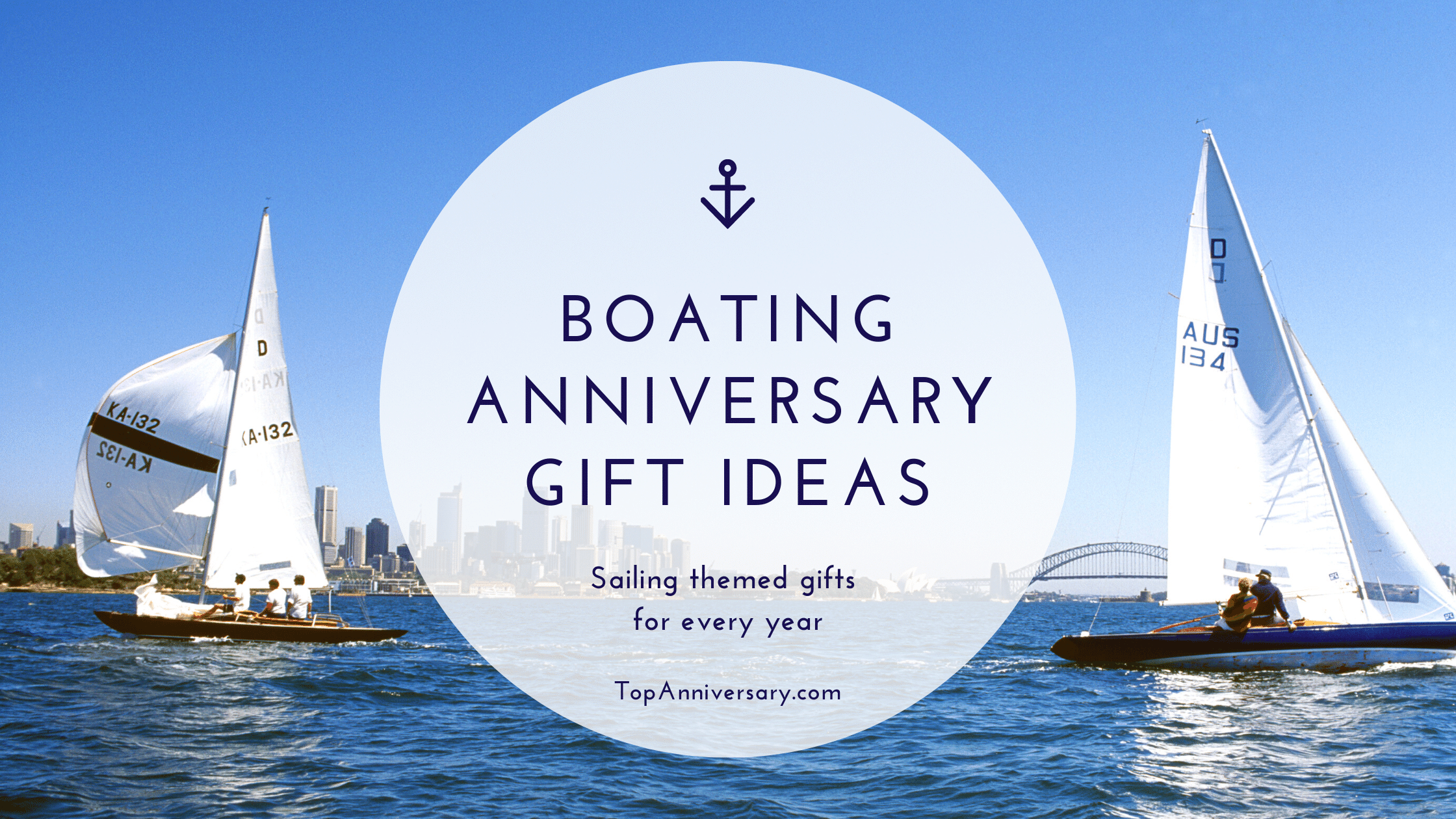 1st Anniversary is traditionally paper and we thought either
a beautiful framed photo of your boat
or a photo of the two of you sailing, 
or a painting of your aspirational "one day" boat
or a map of where you want to go next on your adventures.
2nd Anniversary is cotton and there are some rather smart sailing tops that would be perfect and also lots of fun t-shirts too.
3rd Anniversary is leather and for this you could treat them to a new pair of boating shoes or a cute leather keyring with your favorite coordinates or a wallet.
Your 4th Anniversary is celebrated with linen which could be a smart new pair of sailing shorts or a linen tote to carry those extras you need. 
Your 5th is wood and this could be a handcrafted wooden sailing boat.
Or a model of one.
Or a set of wooden oars.
Or a framed photo of you and their boat - their greatest loves!
Your 6th is iron, this could be a new anchor which would be pretty neat and also very useful if you need one.
It is also candy too, so you could have a bag of their favorites ready for their trip.
7th anniversary is copper and for this how about a customized compass.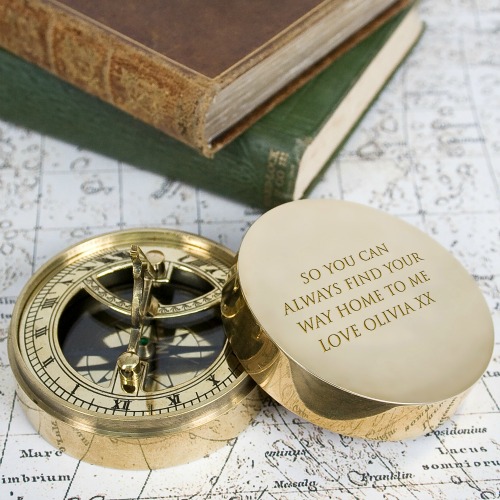 That way they can always find their way home to you.
8th anniversary is bronze and for this it has to be a classic bronze sailing statue.

9th anniversary is pottery and although something breakable is probably not best for taking on the boat there are lots of funny mugs that would be perfect for when you are on dry land.
10th is tin and for this we thought you could put together their very own Sailing tin that you can fill with treats that they can use on their next trip. 
11th is steel and although you can't sail and drink we thought you could fill this with their favorite tipple to enjoy with their friends when they are all sharing their favorite sailing stories.
This personalized steel flask would be perfect for that.

12th is silk and a silk tie or silk scarf for a meeting in the clubhouse would be good.
13th is lace and to be honest we struggled with finding a themed gift for this year, until we realized that most boating shoes need laces. Hmm, think we can hear the groans from here on that one!
14th is ivory and we went with the color for this year, which could be a new dry bag or the latest much needed gadget.
15th is crystal and maybe a crystal trophy for the best sailorin your house ;) or a crystal glass to enjoy a tipple in the club house after an Anniversary trip.
Your 20th Anniversary is traditionally celebrated with china, which if you are looking for a themed gift how about a trip to enjoy sailing in the Far East.
Your 25th is silver and for this it could be a silver cup for the even better sailor or to go and see the one of the many Sailing Grand Prix races that are around the world.
The next big anniversaries are celebrated with gemstones that don't really fit too well into the boating theme but we are sure you could find something in the Anniversary color that would be perfect.
Although you can get Gold Double Braid Dockline!
Wishing you the best Anniversary filled with at least one trip out and let us know what gift you choose, we would love to hear how our list helped.

---
We deliver Anniversary Gifts to USA & UK, Europe, Australia

Contact Us | Privacy Policy | Affiliate Disclosure|Anniversary Blog
Terms & Conditions | About | Site Map