1 Year Anniversary Gift Idea for Husbands
Fun 1 Year Anniversary Gift Ideas For Your Husband
Congratulations! Your first of many anniversaries and the perfect time to celebrate your 1st year together.
Traditionally your 1st wedding anniversary is celebrated with paper and from the modern anniversary list with clocks and if you want your anniversary gift to be fun then you can have lots of fun with these gift ideas.

Meaning behind your Husband's 1st Anniversary Gift
Traditionally you celebrate your One Year Anniversary with paper, the meaning behind paper is that it represents how you need to look after your marriage and that it is fragile.
Paper is also incredibly important, just like the two of you.
Wedding Anniversary Journal
$49.99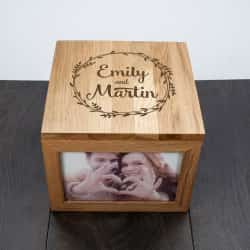 Anniversary Photo Box
$69.99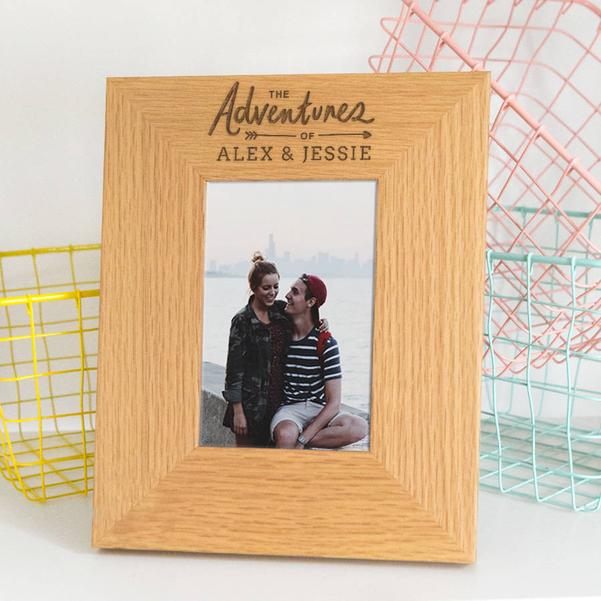 Couple's Adventure Frame
$35.95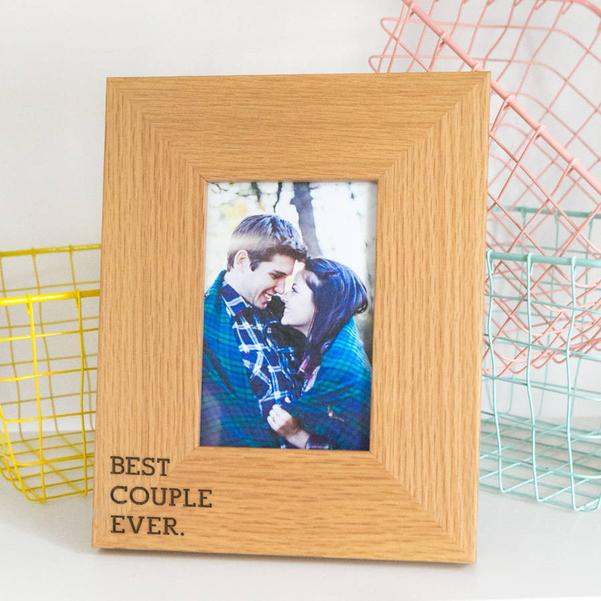 Best Couple Ever Frame
$35.95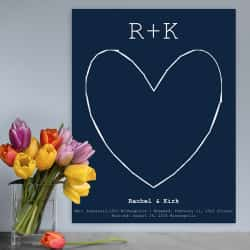 Your Love Story Canvas Art
$79.99
Tickets to somewhere amazing

Tickets to see your favorite band

To be honest tickets to anywhere would be pretty cool! Even if you have made them yourself ;) check out our free printable Anniversary Coupons
Your very own jigsaw puzzle - where you have to find the pieces first - you could make it the ultimate treasure hunt.

365 paper hearts or love notes - one for every day you have been married.

And with paper there are lots of very fun books...
Practical Husbands
When you are looking for the perfect 1 year anniversary gift idea you can find loads of ideas that are romantic and sweet, but let's face it not everyone has a husband that likes that stuff. Don't panic - you are not alone and there is no point getting in a pickle about it!
If your husband is more into his sport, cars and enjoying a beer it doesn't mean that he doesn't love you any less than a husband who showers his wife with flowers and romantic gestures. So, you may end up with a card and a bunch of flowers from him but what can you get him?
Personalized Clock

Looking at the modern list your 1st anniversary is a clock.

Lovely and practical, but you can also personalize it.

This personalized clock has your favorite place centered on it.

This could be where you met, were engaged or where you love to go.
Funny Gift

A very silly gift of 1st Anniversary toilet paper!

"I love you from the top to the bottom"

Perfect if your man likes funny.

You can just hear the stories he will tell in years to come if anyone asks what he got to celebrate being married for one year.
Tickets Make Great 1st Anniversary Gifts
Your gift idea has to come from what he loves, if it is sport then buy him tickets to see a great game - and go along too, if he loves his cars then look out for an exhibition near you - and go along too, and if he just loves enjoying a beer - go along too - just make sure you take him to somewhere you want to go! You could go along to where you first met, or where you both used to enjoy going on dates!
Make a whole night of it, even a weekend away if you can afford it and arrange to do things that you know he will love, just make sure you also arrange to do things that you love as well!
It isn't easy celebrating when what you would like differs so much from what your husband wants to do, it is all about compromise! And you know that when you arrange a great time for your husband you will have fun too!
Alternative 1st Anniversary Gift Ideas
You don't just have to stick with paper for your anniversary gift as on the modern list you have clocks.

Clocks must be one of the most practical gifts that there is and it could easily mean a watch or maybe a clock for his office or shed - depending where his space is in your house! If your husband is into sports and especially running there are some great watches for timing and tracking your runs. A sweet idea is to have the watch or clock engraved with a sweet anniversary message.
---
We deliver Anniversary Gifts to USA & UK, Europe, Australia

Contact Us | Privacy Policy | Affiliate Disclosure|Anniversary Blog
Terms & Conditions | About | Site Map