Homemade 1 Year Anniversary Gift Ideas
Homemade 1 Year Anniversary Gift Ideas 

Traditionally your 1st Anniversary is celebrated with paper, meaning that you need to care and look after your marriage for it to last. Wise words and symbols in the traditional list.
On the modern list you celebrate your one year marriage with clocks.
Create Your Own 1st Anniversary Time Capsules
Your 1st anniversary is a time to celebrate and look back at what a fab first year you have had. One way to keep all those special moments safe is to add them to your very own anniversary time capsule.
Fill your time capsule with paper goodies for your traditional 1st anniversary gift of paper and relish in the thought that the modern gift of clocks and time is also represented by the fact you are saving memories.
We have a unique take on a paper time capsule and also a beautiful personalized wooden time capsule too.
Have fun filling yours with happy memories from the first year as husband and wife.
1st Anniversary Time Capsule Made From Paper
1 year anniversary gift ideas are traditionally made from paper, we came across this sweet idea and had to share it with you.
Pinatas are popular in Mexico, they are made of paper or straw and filled with sweets and candy to celebrate a special occasion. The pinata is then hung up high and everyone tries to break it with sticks to get the treasure.
But rather than breaking up your pinata how about using it as your very own anniversary time capsule? There is a section on the pinata that you use to fill it normally with candy but instead fill it with keepsakes from your 1st year together. You could have; photos, tickets from shows you have been to, little gifts and souvenirs that remind you of important events in your year together.
Here are some gorgeous Pinatas that would be perfect to make your own anniversary time capsule;

Pinata Hearts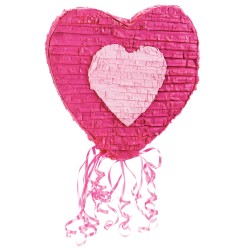 A heart would make a great pinata time capsule, you could add souvenirs of all the things that you have loved doing as a couple in your first year together as husband and wife. Each year you could open it and add new souvenirs or add them throughout the year and then you will be able to have a look together on your anniversary.
---
Pinata Numbers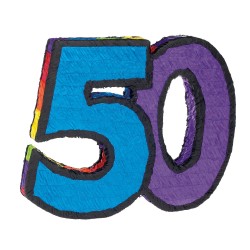 If you are the more patient couple you could set yourself a date that you are going to open your time capsule and then buy the appropriate numbered pinata for when you have decided. No looking early!
You can then choose when you are going to open it, it is your very own time capsule! Will it be your 2nd wedding anniversary, or your 25th? The longer you can leave it the more fun it will be when you open it.
You could even add to it each year, just imagine what 50 years of photographs will look like when you eventually open it.
Or rather than using it as a time capsule you could use your pinata as your gift box and fill it with all of their favorite things, which could be candy or tickets for an amazing day out.
Pinatas are not just for children, we have found some that you would be happy to have as your first anniversary gift and also others that you could save for your 25th, 30th and even 50th!
Personalized 1st Anniversary Time Capsule
Anniversary Keepsake Box
$49.95
The downside to using a pinata is that they can be a bit of a pain to store as they can be quite big. So, some alternatives could be;
a wedding gift box from your wedding
a decorated shoe box
or a hat box
You may even want to use something more substantial which could be a tin or wooden box. 
We have teamed up with Zazzle to create a personalized wooden anniversary time capsule just for you.
Inside the lid we have left space for you to add your own photo of the two of you.
Our Top Ten Items For Your 1st Anniversary Time Capsule
You can have so much fun with this, especially if you are planning on opening your time capsule years in the future!
Our top ten items would be;
Photos of the two of you
Love notes to your future selves
Tickets of events you have been to this year
Souvenirs from places you have visited
Menus from your favorite restaurant
Fabric from your wedding dress
Pressed flowers from your bouquet
A small bottle of your favorite perfume or aftershave
A newspaper from your wedding day
Your favorite cd the year you were married
Would love to hear what you would add to yours!
Best Homemade 1st Anniversary Gift Ideas
If you are feeling really creative have a look at our Homemade Anniversary Gift Ideas board on pinterest where all of the most popular gift ideas are waiting for you.
Here are a few examples...
The most popular homemade 1st Anniversary gift ideas have been...
Taking a pack of playing cards and using all 52 cards (one for every week you have been married) to add a cute love message 
Covering the house with post it notes and love notes
Making your own lottery ticket
Making your own Anniversary Book
Memory Jars
Cuddle kits
Homemade games
Recreate the front cover of your favorite magazine with you both on it!
---
We deliver Anniversary Gifts to USA & UK, Europe, Australia

Contact Us | Shipping & Returns |Privacy Policy | Affiliate Disclosure|Anniversary Blog
Terms & Conditions | About | Site Map