1st Wedding Anniversary Presents
DIY 1st Wedding Anniversary Presents
1st Wedding Anniversary presents are traditionally made from paper which really lends itself to a DIY gift.
Perfect to fit with the theme as well as your budget!
10 DIY Paper Anniversary Gifts Ideas That Will Melt Their Heart
Personalized Wall Art
Handwritten Love Letter
Paper Origami Hearts
Personalized Song Lyrics made into Art
DIY photo collage
When it comes to making your own 1st Anniversary gift you will want to put your heart and soul into it.
Have a look at the list above to choose something that you know that they will love and follow our tips to create something really special.
What To Put In A 1st Anniversary Memory Book
Photos from your Wedding Day
Photos from the past year
Souvenirs from places you have visited or things you have done. It could be as simple as paint colors you have chosen for your home or more extravagant tickets of a vacation you have enjoyed.
Think about all the fin things you have done together over the past year and write about them here.
You could add 365 reasons why you love being with them, one for every day you have been married.
Or the cutest things that you have adored.
How To Make Your 1st Anniversary Love Letter More Romantic
Writing a love letter to your spouse for your 1st Anniversary is already super romantic and it will be something that is treasured forever.
But if you want to make it even more special think about how you want to send it or wrap it.
You could create your own message in a bottle
Find the most gorgeous paper and write your love letter in your best pen and then mail it to them. You could even send it to where they work with flowers or a fun 1st Anniversary balloon.
Your love letter could be the prize at the end of a fun treasure hunt around your home.
You could write it on parchment paper and tie it with a ribbon
You could even write it in the form of a poem
The hardest part of writing a love letter is to get started and the easiest way to do that is to just start.
You may end up editing it a few times until you get it just right so don't start on the best paper.
Tell them how wonderful you think they are, remind them of the fun things you have done together over the past year and tell them how much you love them.
Personalized 1st Anniversary Art
Creating your own 1st Anniversary Art is a really personal and thoughtful gift and one that you both can enjoy even if drawing is not really your thing.
Ideas that they will love are
A photo of the two of you printed onto canvas
Your wedding vows framed with a backdrop of your Wedding or a Wedding photo.
The lyrics to your first dance at your Wedding or the lyrics to Your Song, you know the one. Either print them onto a large piece of paper and frame them or handwrite your favorite line.
A photo collage of your dates from the last year or a collage of your favorite times together.
A painting of your favorite place
A painting of where you met, or married or were engaged.
A painting of your wedding flowers
A painting of your house
How Do You Make A Date Night Jar?
A date jar is exactly that, a jar filled with either pieces of paper or  sometimes wooden lolly sticks that have ideas for date nights written on them.
Mix up your date nights with cosy nights in and bigger more extravagant nights out.
It could be 52 date night to take you all the way through the year.
There are lots of date night ideas here for your inspiration.
As it is a 1st Anniversary gift you can make your date night jar more gift like by using bright colored paper and by tying a big bow to the jar.
Also add a Happy 1st Anniversary Date Nights label to the jar.
Ethical 1st Anniversary Gifts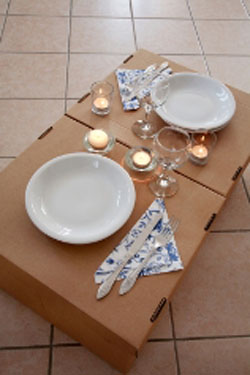 1st wedding anniversary presents don't often save the planet but with the symbol of this year being paper it would be hard not to find a recyclable and ethical gift!
There are some pretty cool things made from cardboard from furniture to bracelets and with some time and patience you too could create a fantastic gift. 
There are also lots of beautiful handcrafted gifts made from recycled paper for you to choose from or secondhand paper gift ideas too.
Have fun choosing the most beautiful present.
1st Wedding Anniversary Gifts In Store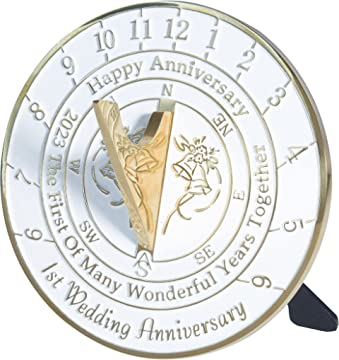 1st Anniversary Sundial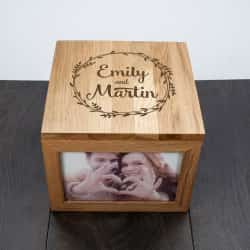 Anniversary Photo Box
$69.99
1st Anniversary Journal
$49.99

Eco Friendly 1st Anniversary Paper Gifts

The great thing about cardboard is that it is relatively inexpensive and often free, ask at your local stores if they have any that you can take away, they will probably be glad that you did.
You may even be able to master a beautiful new coffee table or bedside cabinet! Or if not you could always make a fun table for two just like in the picture for you both to enjoy a romantic meal together, you could add to the paper theme by having paper plates, cups and cutlery as well.
Another fun, make your own 1st anniversary gift is a puzzle where you design the picture, you can have them professionally made at CafePress.com with a photo of the two of you, or a love message or even a clue as to where you are going on an anniversary surprise. You could also stick the picture on card and then cut up the pieces, hide them round the house to make your 1st anniversary present last all day!
Or you could always draw your very own treasure map and have some anniversary treasure buried in your back yard. The gift could be a message in a bottle or you could be waiting there with a romantic anniversary picnic.
Or you could make a lucky dip with a cardboard box being the "bucket" that you put all of the prizes in! You could wrap lots of small anniversary gifts and then let them choose an anniversary gift for that hour.
Vintage Paper Anniversary Gifts
Vintage or secondhand gifts can be equally as amazing as buying a brand new item and when it comes to paper there is a fair amount to choose from. 
Books are the obvious secondhand choice, you could look at finding a rare 1st edition of their favorite book or one by their favorite author or a copy of a book they have always wanted to read.
Don't just think reading books, vintage maps would also make a great gift. For a gift for my husband I found vintage map books of where we met, were married and live. Inside I added post-it notes as reminders of where we loved to go and memories of those trips.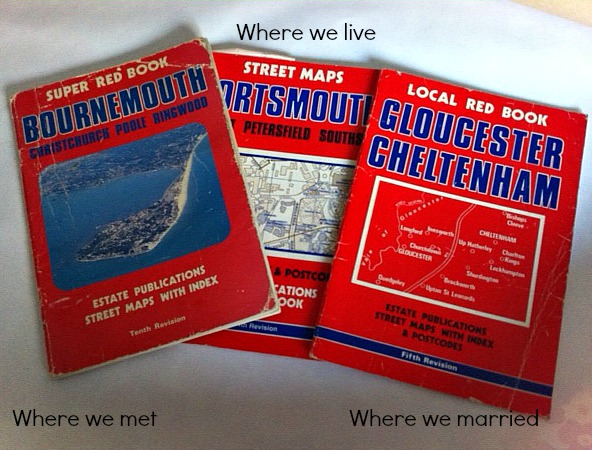 Vintage postcards can also be lots of fun, especially if you find one of a place that you both love. Maybe one from where you met, or were married or where you went on honeymoon.
There are also really great reproductions of vintage travel maps and advertising posters. The designs on some of the early travel posters are stunning and truly works of art. We have quite a few on our walls! 
Seriously worth checking out the range of vintage posters at Allposters.com they have so many to choose from.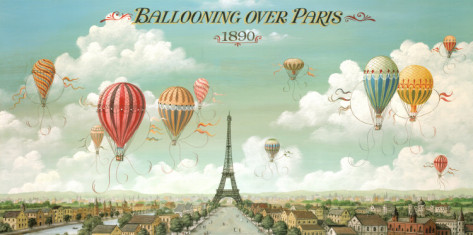 ---
We deliver Anniversary Gifts to USA & UK, Europe, Australia

Contact Us | Privacy Policy | Affiliate Disclosure|Anniversary Blog
Terms & Conditions | About | Site Map