30th Anniversary Invitations
Free Printable 30th Anniversary Invitations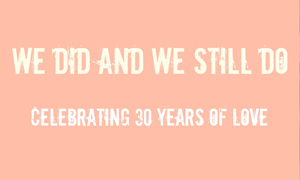 This may come as a shock to you but not many couples celebrate their 30th wedding anniversary with a party! We thought that was too shocking and thought it was time to put that right!
If you were married in the 1990s, you know how to party and whether it is a big extravagant dinner dance or a more relaxed party at home, an invitation makes a party feel important. And 30 years together is important!
Your 30th anniversary is traditionally celebrated with pearls so we have included those in some of the designs and from the modern list with diamonds! So a sparkly party wouldn't go a miss.
We have also put together some party ideas for your 30th with ideas for decorations and themes.
Themes For Your 30th Anniversary Invitations
You can consider incorporating elements that symbolize the 30th anniversary, such as pearls which is the traditional gift for the 30th anniversary or the color green (traditional color).
Including a heartfelt message or a personal note can also make the invitation more special.
Plus, don't forget the envelopes! You can get some gorgeous pearl effect envelopes which would look amazing alongside your invitations.
Free Printable 30th Anniversary Invitations
Just click on the images and you will be taken to a pdf that you can print at home.
You could also add a photograph of the two of you on the front of the invitation or have a then and now photo.
The wording in your invitation is going to be much the same as any anniversary. We have put together samples from formal to fun for you here.
Your 30th anniversary might be a time when you want to renew your wedding vows and then your invitations may need to be more formal so your guests know what to expect.

Shop 30th Anniversary Invitations Online
You may not want to make your own 30th Anniversary invitations which is not a problem as over the years there are a lot more options available to buy online.
FAQ 30th Anniversary Invitations
"Join us as we celebrate 30 years of love and togetherness. Please join [couple's names] for their 30th wedding anniversary celebration."
It is recommended to send out the invitations around six to eight weeks before the anniversary celebration. This will give your guests enough time to RSVP and make necessary arrangements.
The invitation should include the following details:

Names of the couple celebrating their 30th anniversary
Date, time, and venue of the celebration
RSVP information (phone number or email address)
Any specific dress code, if applicable
Any special instructions or requests (e.g., bringing a dish to share)
Absolutely! Including a photo of the couple on the invitation can add a personal touch and make it more memorable.
It is generally not considered appropriate to mention gift preferences on the invitation. However, if you wish to provide guidance, you can inform guests by word of mouth or through close family and friends.
Yes, electronic invitations are becoming increasingly popular and convenient. You can use email or social media platforms to send out digital invitations. Just ensure that the design and wording reflect the significance of the milestone.
---
We deliver Anniversary Gifts to USA & UK, Europe, Australia

Contact Us | Privacy Policy | Affiliate Disclosure|Anniversary Blog
Terms & Conditions | About | Site Map