50th Wedding Anniversary Cakes
50th Wedding Anniversary Cakes

Your 50th anniversary cake can be anything that you want them to be, 50 years of marriage is definitely worth celebrating and you will want your cake to be as special as the occasion.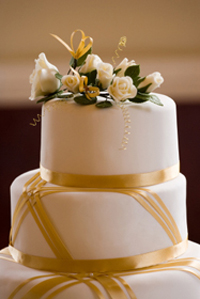 A popular choice for an anniversary cake is to have a modern wedding cake, complete with layers and a 50th wedding anniversary cake topper. You can commission a local baker to create a stunning cake, with flowers and touches of gold and some couples like to use the cake topper from their wedding cake as a reminder of the day. These traditional style wedding cakes can be expensive and to save money you may want to have a sheet cake and a smaller tiered cake. The sheet cake will be decorated with the same icing and made from the same cake but it costs a lot less as it has less decorations. This cake would be cut in the background so all of the guests will think they have had a piece of the main cake!
You can also buy celebration cakes from most major supermarkets, these are quite plain but you can add decorations, gold ribbons, topped with gold flowers and a 50th cake topper would look great.
You can even have cakes made that look like they have been covered in gold as there are some amazing metallic cake colors that you can get now. There is also gold cake glitter and edible gold leaf!
Some couples have their original wedding cake reproduced for their 50th wedding anniversary party, you could have photos of them cutting the original cake on their wedding day!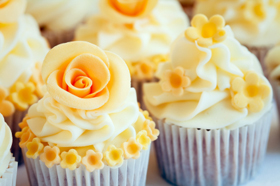 As well as big tiered cakes you could also have tiers of cupcakes, this is very popular amongst brides today and would be perfect for a 50th anniversary. The tiers are filled with individual cupcakes and when done well looks stunning. You could have the cakes in different flavors and alternate the decorations or keep them all the same.
You could have your 50th wedding anniversary cakes served as the dessert at your anniversary party which will help keep the costs down on your menu or have your guests take home a slice to enjoy after the party.
If you were looking for a fun anniversary cake then style your cake like the groom's cakes from today's weddings. These cakes are more of a tribute to their hobbies and adventures, which after 50 years of marriage there must be lots of ideas to choose from!
---
We deliver Anniversary Gifts to USA & UK, Europe, Australia

Contact Us | Privacy Policy | Affiliate Disclosure|Anniversary Blog
Terms & Conditions | About | Site Map