50th Anniversary Party Favors
50th Anniversary Party Favors

50th anniversary party favors are a lovely way to thank your guests for sharing the celebrations and they add to your tables decorations with an extra sparkle.
At a 50th anniversary most of the favors that you find will be gold themed which works very well and is probably the easiest theme to have for this type of party.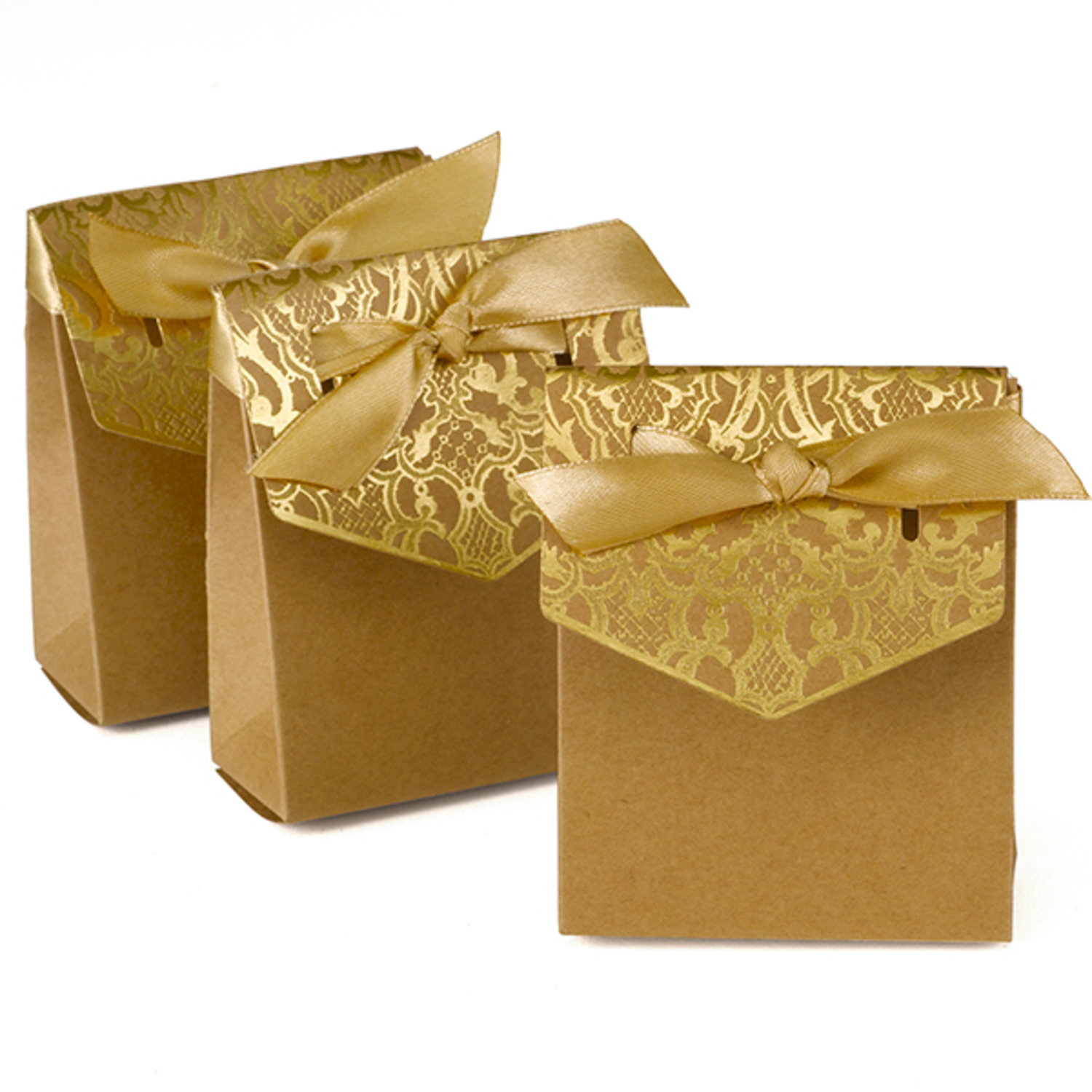 Gold Tented 50th Anniversary Favor Boxes
$16.95

Discounts available for bulk orders on our Personalized 50th Anniversary favors
Another sweet 50th anniversary favor is this mini gold photo frame. This would be a lovely way for your guests to keep their photos from your anniversary party.

Plus, it works really well as a place holder for the party tables too.

If you were super organized you could even add copies of photos of you both with each guest.

These are available from My Wedding Favors.




Chocolates wrapped in gold are a winner, buy them in bulk from a local sweet shop or online as buying them from a party shop will cost you more.

You can either place the chocolate in a favor box tied with a gold ribbon or in a tulle bag or circle.

To ensure the ribbon stays in place on the favor box attach it with double sided tape.
Gold candles as a favor look pretty on the table but might not work as a favor for the mixture of ages of your guests.
If this works for you then tying a note to the candle with gold ribbon adds an extra fun element. Your note could read "Our love continues to burn brightly, thank you for sharing our special day."
Packets of seeds are popular as a wedding favor and this works for the golden theme as you could have little packets of golden sunflowers or other well named flowers! Rather than buying the seeds as ready made favors buy a bag of seeds and seperate them into individual envelopes with a note on them. The seeds are great for all ages and if you have children at your reception you could include a fun plant pot or a mini watering can for them to use. If you are looking for an activity for the children you could have a table for painting the plant pots. Make sure you include some painting bibs for the children to wear as they will be in their best party outfits.
Other favors for children could be a fun pack to keep them occupied during the meal - the parents will love you for that. Coloring books, crayons, and bubbles are appreciated by most ages. For older children you could have a quiz.
---
We deliver Anniversary Gifts to USA & UK, Europe, Australia

Contact Us | Shipping & Returns |Privacy Policy | Affiliate Disclosure|Anniversary Blog
Terms & Conditions | About | Site Map