50th Anniversary Music

Your 50th anniversary music for your party needs to be chosen depending on the ages of your guests and the music tastes of your couple.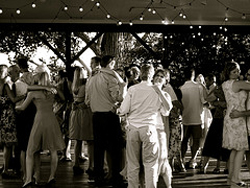 Music from the 1950s, 1960s and 1970s will need to be popular, there is little point playing obscure songs that only a few people know as you want everyone to feel relaxed and maybe get up and dance.
You can find compilation albums specific to 1950s and 1960s which would make providing the music easier and then you could add in your anniversary couples favorite music from the last 50 years. Are they big into country, folk, blues, jazz or even big ands?
If you have a mixture of ages coming to the party then it would be a good idea to have a few classic party songs that guarantee everyone will get up and dance.
A good way to find out what music will work is by looking at what the popular songs are at weddings at the moment, you may be surprised at the number of classic and older songs that are played. Especially for that all important first dance!
Angels by Robbie Williams 
Everything I do, I do for You by Bryan Adams
You're Beautiful by James Blunt
When I Fall in Love by Nat King Cole
You will also need background music to play during the party , you could have a cd of love songs or ask all the musically talented members of the family and friends to provide some of the entertainment. They may only need to do one song or play for a short period if you have lots of volunteers!
Online Resources For Music

There are a number of music sites that are a great resource to put together a playlist for your party. These 2 we have used ourselves and find them great.

Spotify - We have been at a party where one person was in charge of the laptop and then they played DJ all night taking requests! It did work really well as there was a number of different age groups.

8 Tracks - a personal favorite that has lots of playlists that loads of people have put together.  You can choose what you want to listen to either by the type of music you want to listen to - instrumental, classical, jazz, pop. Or by the year. Or even music to cook to, bath to - all sorts really!
If your party is going to be big it will be worth hiring a dj or a band, they know how to work a party so that everyone leaves having had a good time.

---
We deliver Anniversary Gifts to USA & UK, Europe, Australia

Contact Us | Shipping & Returns |Privacy Policy | Affiliate Disclosure|Anniversary Blog
Terms & Conditions | About | Site Map