30th Wedding Anniversary Flowers
Beautiful 30th Wedding Anniversary Flowers
Your 30th wedding anniversary is celebrated traditionally with pearls which is a great theme for your Anniversary Flowers.
Think crisp and stunning white flowers with a shimmer of pearl and you will have the perfect bouquet.
Also, don't forget that there is a Flower List, which traditionally the 30th flower symbol is the Lily and there is the modern alternative which is the Sweet Pea.
Top Pearl Themed 30th Anniversary Flowers

White Roses
Lily of the Valley, the flowers almost look like tiny pearls
White Tulips
White Lily - which fits very neatly into being the 30th Anniversary symbol from both lists.
White Calla Lily 
White Orchids
White Hydrangea
White Carnations
White Camellia
White Daisies
Don't just think a bouquet of these gorgeous flowers as you could gift a flowering plant and then they will be able to enjoy the flowers year after year.
30th Anniversary Flower Symbolism
Flowers have long been associated with expressing emotions and conveying meaningful messages.
Both traditional and modern anniversary symbols incorporate flowers.
While the traditional 30th anniversary flower is the lily, the modern alternative is the sweet pea.
Flowers have a language of their own, and each type carries its own symbolism and meaning. Understanding the significance behind different flowers can help you select the perfect bouquet that conveys your emotions and sentiments.
Popular Choices for 30th Anniversary Flowers & Their Symbols
Roses: Symbol of Love and Appreciation
Lilies: Elegance and Beauty
Carnations: Long-Lasting Love
Sweet Peas: Blissful Pleasure
Orchids: Exotic and Graceful
Irises: Wisdom and Faith
Lily of the Valley: Sweetness and Happiness
Sunflowers: Warmth and Joy
Daisies: Innocence and Purity
Forget-Me-Nots: True Love and Memories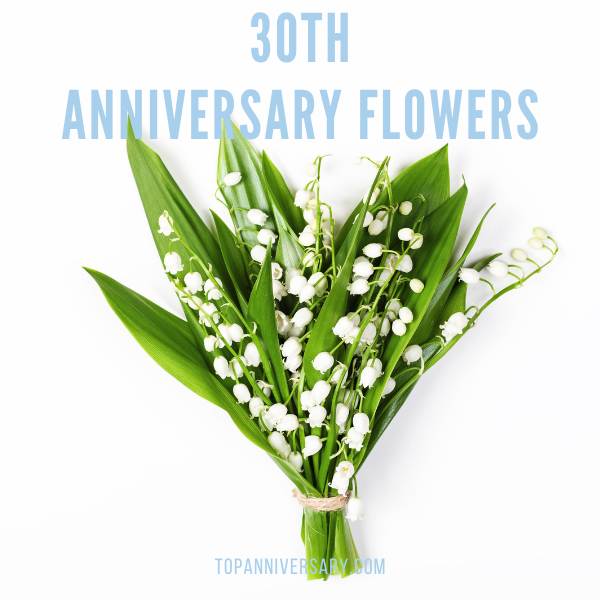 Where To Buy Fantastic 30th Anniversary Flowers
ProFlower has lots of choice of colors and flowers, great quality and great prices. You can also get 15% off if you use this link!
Plus Nature Hills have lots of stunning Rose bushes that would make a great gift too and last much longer.
There are lots of gorgeous 30th Wedding Anniversary Flowers available for you to order and send now through Amazon and if you use your Prime account the delivery times will be reduced.
Making Your Own 30th Anniversary Bouquet
You may also be thinking of making your own Anniversary flowers which would make your gift even more personal. 
Use some of our flower suggestions to make a truly stunning display and also think about how you are going to present your flowers.
You can buy pearl pins to insert into the flower heads to really add to the 30th theme.
And also a pearl colored ribbon tied around the stems with a pearl pin or maybe even a brooch would look great.
It is one of the simplest yet most heartfelt ways to incorporate 30th anniversary flowers into your celebrations by presenting your love with a timeless bouquet.
FAQ on choosing your 30th Wedding Anniversary Flowers
The traditional flower for this milestone is the lily, particularly the lily of the valley. This delicate and fragrant flower represents purity, devotion, and the enduring love shared between two people. The lily of the valley's elegant white blooms and sweet scent make it a perfect choice to commemorate 30 years of a beautiful journey together.
Traditionally the 30th Anniversary flower is the Lily, the Lily of the Valley is often used. The modern 30th Anniversary Flowers are Sweet Peas. You can also use any white flowers that fit with the Pearl theme.
White is the color associated with the 30th anniversary flowers; lillies, lilly of the valley, roses and daisies are popular.
If you want to give more than a bouquet of 30th anniversary flowers how about surprising your spouse with a romantic getaway. Plan a trip to a location famous for its lilies of the valley, such as the Loire Valley in France or the English countryside. Immerse yourselves in the breath taking landscapes, visit flower markets, and enjoy time together.
As an Amazon Associate Top Anniversary earns from qualifying purchases, these items do not cost you anymore.
Full details on our Affiliate policy can be read here

---
We deliver Anniversary Gifts to USA & UK, Europe, Australia

Contact Us | Privacy Policy | Affiliate Disclosure|Anniversary Blog
Terms & Conditions | About | Site Map