30th Anniversary Gift Idea Wedding
Alternative 30th Anniversary Gift Ideas
Looking for an unusual 30th anniversary gift idea? Wedding anniversary gifts can be fairly predictable; flowers, chocolates, jewelry - all are lovely, but after 30 years of marriage why not buy something a little bit different?
And it doesn't just have to made from pearls!
Traditionally of course you would have a pearl anniversary gift for 30 years married and if you were following the modern list then your gift would be made of diamonds.
There is also the gemstone list, which also has pearls as the gemstone.
And then you have the 30th Anniversary flower which are Sweet Peas.
Pamper Gifts
Everyone loves to feel special and one of the best ways of doing that is treating your husband or wife to a Spa break, it could just be a day away to be pampered or a whole weekend.
Have a look at your local large hotels, most will have some sort of Spa.
You will need to tell them about the treat before the day so that they can choose the treatments that they want, alternatively most will do gift certificates so you can both decide when you want to go.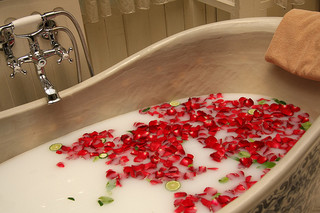 Another option is to book a couple's massage where you can both enjoy the experience together.
Amazing Experience Gifts from GreatAmericanDays.com

There are also companies that you can buy experiences from. These could be pampering or having a go in a rally car. There will be an experience for everyone whether they just want to relax or have the thrill of a lifetime! Make sure you check out the small print as there are likely to be restrictions on when you can use them and also where. 
Another great alternative gift is buying a share in their favorite football team or company. If they love chocolate why not a share in the best chocolate manufacturer? Never out of their jeans then a share in Levis could be the thing. We have found a company that takes all the hard work out of finding where you can buy the share certificates and they will even frame it for you. Have a look at Framedshare.co.uk to see all the big companies that they do.
30th Anniversary Vacation Ideas
Romantic weekends in ...
Or An Anniversary Cruise would be really amazing way to celebrate especially if you can maybe link it to diving and possibly try your luck at finding your own pearls.
Some of the best places that you can dive for Pearls are Bahrain, Tahiti, Mexico, Hawaii and there are places in the States that you can do this too; freshwater pearls can be found in Tennessee and Kentucky.
The best way to do this is to book yourself on to a guided tour.
Here you will find details on Pearl Diving for two in Bahrain which is one of the most popular destinations. 
The Number 30
Since you are celebrating 30 years of marriage the number 30 plays a big part in your celebrations.
And you can use the number 30 in your gifts too.
A bouquet of thirty of their favorite flowers
30 balloons tied to the house for your very own "Up" Adventure
A hamper filled with thirty of their favorite things and instead of a hamper your could use a case and fill it with thirty things they will need on a massive adventure.
You can create a booklet with thirty dates that you can enjoy together through the next year.
Invite thirty friends to help you celebrate
Send thirty Anniversary Cards through the day
Send thirty flowers individually through the day
Write 30 reasons why you love and adore them into a photo album and add all of your favorite photos too.
Personalized 30th Anniversary Gifts
As well as following Anniversary Gift lists you can also look to personalize your gift to make it even more special.
This could be
a 30th Anniversary Vase
30th Anniversary Jewelry
30th Anniversary Glasses
An Anniversary Plate
A 30th Anniversary Photo Frame
A jigsaw puzzle of the front cover of your Wedding Day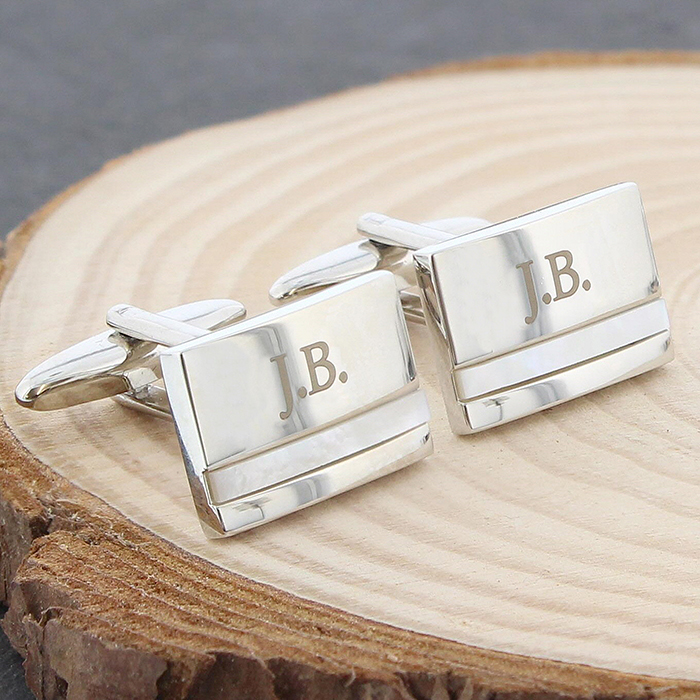 Engraved Pearl Cufflinks
$39.99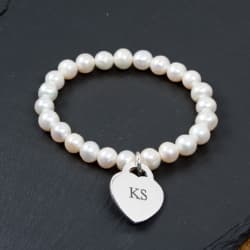 Engraved Pearl Bracelet
$44.99
---
We deliver Anniversary Gifts to USA & UK, Europe, Australia

Contact Us | Privacy Policy | Affiliate Disclosure|Anniversary Blog
Terms & Conditions | About | Site Map