25th Anniversary Gift Ideas for Parents
25th Anniversary Gift Ideas For Your Parents
Finding great 25th anniversary gift ideas for parents can be a bit daunting!
We all know that 25 years is celebrated with silver but buying jewelry is probably not first on your shopping list for a gift for your Mom and Dad.
So, we have put together lots of gifts that we know they will love to receive...
25th Anniversary Gifts For Your Parents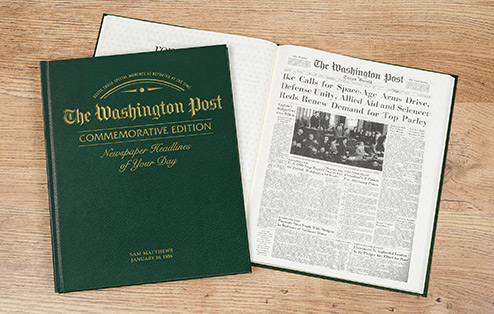 Personalized Anniversary Newspaper Book
$99.99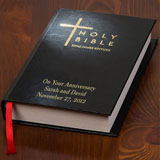 Personalized Leather Bible
$54.99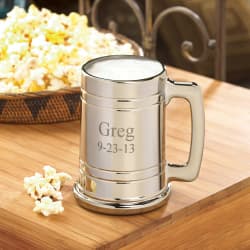 Personalized Metal Beer Mug
$24.99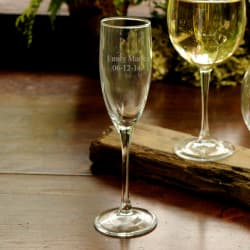 Engraved Toasting Glass
$19.99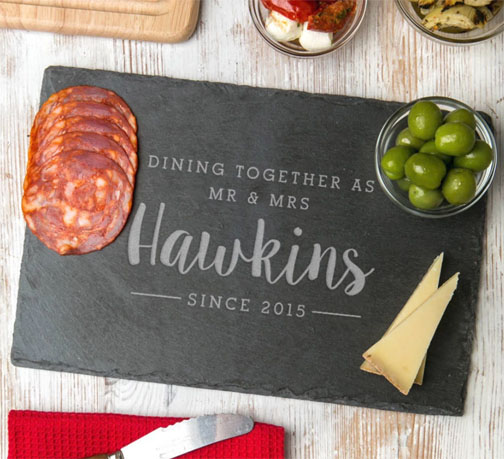 Personalized Couples Board
$49.95
The meaning behind Silver as the symbol of 25 years married is that love is important and your parents' love shines as brightly as the silver of their gift.
Personalized Silver Anniversary Gifts
If your parents love flowers but are not to keen on gardening then how about a bouquet of silver roses. And these will last forever!
Available from Just Paper Roses, you can order silver lace roses or personalized silver paper roses. Both look gorgeous and you can send a single rose or a whole bouquet.
Thankfully there are lots of alternatives to jewelry. We have put together lots of different gifts themed for their silver anniversary that we are sure your parents would love.
Also think about the year that your parents were married - the music, their favorite band, movies that they loved, all of these would be a real trip down memory lane for them.
Trust me 25 years doesn't really seem like very long when it is you celebrating. The old saying of time flies when you are having fun is very true when it comes to big anniversary celebrations.
Your Parent's Love Story
This is such a sweet and personalized gift for your parents and a real souvenir of their 25 years together.
You can choose all of the designs and words that go into the book and you will probably have just as much fun putting the book together. Just think you will be able to ask all of their friends for their stories of your parents. It could end up being quite a book!
A classic 25th anniversary gift is a silver photo frame, which is a great gift on its own but by making it personal to your parents you know that they will treasure the gift for a long time. You could add your favorite photo that you have taken of them both together, or you could frame a poem that you have written celebrating their 25 years together.
Anniversary Canvas
When you are celebrating 25 years you will have lots of shared memories and important dates.
How about celebrating them all by displaying them on your wall, in pride of place.
There are lots of different canvas designs to choose from at our very own Anniversary Gifts Store
Silver Anniversary Gifts
If your parents are into gardening there are lots of anniversary plants and especially roses that have been named after specific anniversaries. Or you can find flowers that are such a perfect silver color they are perfect for an anniversary gift. We love this blue-girl rose available from Nature Hills Nursery and there are lots of other silver flowers and plants to choose from.
Silver Anniversary Gift Baskets
A silver gift basket is another very personal gift as you can fill it with lots of lovely items that you know they will both love. The gifts in the basket don't have to be silver but you can wrap them in silver paper to keep with the 25th anniversary theme.
This fantastic wedding time capsule is available from Design It Yourself Gifts And Baskets. They have lots of anniversary gift baskets to choose from.
Alternative 25th Anniversary Gift Ideas
25th anniversary gift ideas don't just have to be silver, the flower anniversary list has the Iris flower as the 25th anniversary symbol, and an anniversary wouldn't be complete without flowers of some sort. You could see if you can find out what flowers your Mom had in her wedding bouquet and see if you can have a bouquet made with the same flowers. Or choose your Mom and Dad's favorite flowers.
25th anniversary gift ideas don't have to even be an actual gift you could think about holding a surprise anniversary party. 
Or if you can afford it how about sending them on an anniversary vacation. How about a visit to where they spent their honeymoon? If there are a few of you clubbing together to pay for a great 25th anniversary gift then something like a vacation does become affordable.

Poem For Your Parent's 25th Anniversary
What Are Parents?
They're the wonderful couple
who've given so much,
And who bring love and joy
to the lives that they touch,
They're two special people
who willingly share,
Who are never too busy
to listen and care,
They're the ones who encourage
and patiently guide,
Who think of their children
with genuine pride...
And because their devotion
is loving and true,
Their "family ties"
last a whole lifetime through
This is a great anniversary poem that you could use for your anniversary card or as a tag on an anniversary gift basket.

---
We deliver Anniversary Gifts to USA & UK, Europe, Australia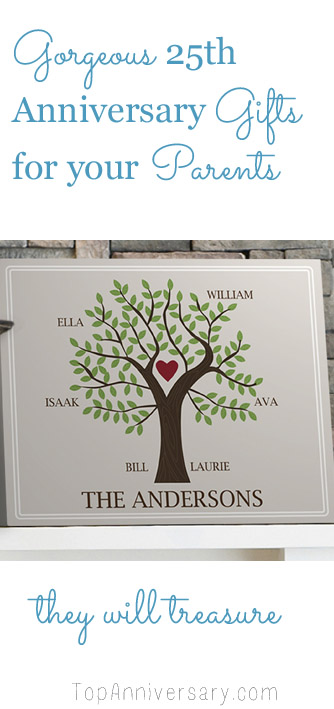 Contact Us | Privacy Policy | Affiliate Disclosure|Anniversary Blog
Terms & Conditions | About | Site Map