Romantic 1 Year Wedding Anniversary Gifts for Your Wife
Romantic 1 Year Wedding Anniversary Gifts For Your Wife
1 year wedding anniversary gifts for your wife are traditionally celebrated with paper and this doesn't mean just a card - although you can't forget the card!
A word of advice - never forget the card!
Alternatively your gift on the modern list is clocks and pearls if you are following the gemstone list.
Meaning of 1st Anniversary Gift
The first anniversary symbol of paper represents the care needed to look after your marriage, it is an important symbol for the beginning.
1 Year Anniversary Gifts for Your Wife
Lots more 1st Wedding Anniversary Gifts are available in store
Photo frames are a gorgeous and really romantic gift, plus when you add your favorite photo it fits really well with the paper symbol.
The same for journals - there are a lovely way to cherish your memories and they show how in love you both are.
Personalized Couples Bible
A personalized Bible is a really thoughtful gift for your wife.
It shows that you share your love of God and together you will grow.
Available to buy in store. Personalize with your own Anniversary message. The Bibles come in white and red leather.




Paper Flowers


Your wife will love the idea of paper flowers on your 1st anniversary as it shows how much thought you have gone to for her gift. There are paper roses, origami orchids and even ones that you can have your photo printed on. You could have your smiling face or even better a photo from your wedding day would be very cute.

Your 1st Year Together
Share your special memories from your 1st year together with this lovely keepsake book.
Inside is a copy of the newspaper from the day you were married and lots of space to add your own thoughts.
Available to buy in store complete with free personalization.
Romantic 1st Anniversary Getaway
If your wife loves going out then tickets for a great show would be perfect, or whisk her off for a romantic weekend away.
You could go back to your
favorite place, 
where you proposed 
or where you spent your wedding night.
Include the paper theme with a guide book of the local area where you are staying if you don't need tickets to get there, or you could be really cute and make your own tickets.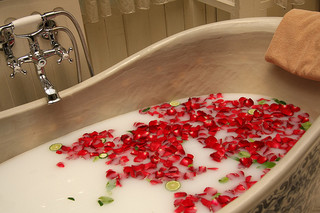 If you can't stay overnight...
Most women love to be pampered, a day at a spa followed by a romantic meal would be a perfect day.
A day trip to where you proposed or where you were married and pack a picnic.
Tickets to see a show.
Romantic 1 Year Wedding Anniversary Ideas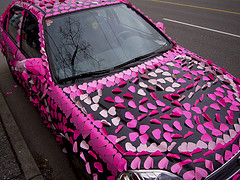 For a fun way to start your 1st wedding anniversary write lots of love notes and stick them around your house, you could have 365 - one for every day of your first year as husband and wife. You may not want to go as full on as this sticker has with their loved ones car but I am sure you will have some fun finding places to stick these!
Or you could have your bouquet of flowers made from paper, you could make them yourself with tissue paper or get the experts to make them for you! Justpaper roses have been making 1st Paper Anniversary roses for years so they are really good at it.
Paper Rose petals scattered on the bed.
Send her a ticket to your own private viewing of your wedding video or slideshow on your laptop of all your gorgeous wedding photos.
Print a Happy Anniversary banner to hang up as a surprise.
---
We deliver Anniversary Gifts to USA & UK, Europe, Australia

Contact Us | Privacy Policy | Affiliate Disclosure|Anniversary Blog
Terms & Conditions | About | Site Map