Romantic 1st Anniversary Getaway
If your wife loves going out then tickets for a great show would be perfect, or whisk her off for a romantic weekend away.
You could go back to your
favorite place, 
where you proposed 
or where you spent your wedding night.
Include the paper theme with a guide book of the local area where you are staying if you don't need tickets to get there, or you could be really cute and make your own tickets.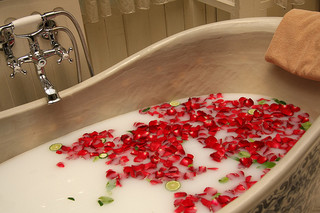 If you can't stay overnight...
Most women love to be pampered, a day at a spa followed by a romantic meal would be a perfect day.
A day trip to where you proposed or where you were married and pack a picnic.
Tickets to see a show.