Handcrafted Wedding Anniversary Greeting Card Ideas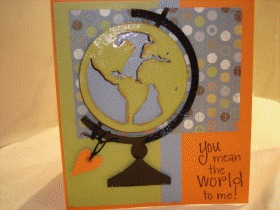 I was looking for wedding anniversary greeting card ideas to share with you and came across a great card maker, Enfys (pronounced Envis) Cashmore, who has agreed to share her great anniversary card designs with us and I had the chance to ask her a few questions on how she started and where she gets her inspiration?
A friend from the UK came to stay, she dabbled a bit in cardmaking and took me into a scrapbook store. I was fascinated, thought 'I could do that' and went home to make all my Christmas cards I haven't stopped since.
If you were just starting out making a wedding anniversary greeting card what do you need? 
A good paper trimmer, a glue stick, some cardstock, pretty paper, a pair of scissors and you could make your first card. Of course it won't stop there, you find irresistible stamps, then you need something to colour them, then those die cut machines look pretty nifty...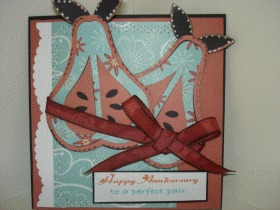 This is a hard one for me to answer, it could be a multitude of things, ranging from a color combination in an advertisement for bedding to seeing a funny phrase in a book. I would advise anybody just starting out to buy magazines, browse around the cards in stores. Take others ideas and make them your own, you will soon find your own style.
These are very specific designs, that I usually make to order, so it very much depends on the personalities/interests/length of marriage of the people I am designing for. If I am making a generic card, I would focus on pretty, and something that would stand out from the crowd.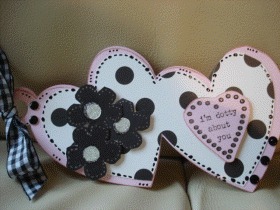 I do my bit to keep the American economy afloat whilst I am here in the US! Craft stores are harder to find in the UK and everything is very much more expensive. I do own duplicates of bigger items, like my Cricut Expression and Cuttlebug, but as I do magazine designing, I have to have equipment close at hand in both locations.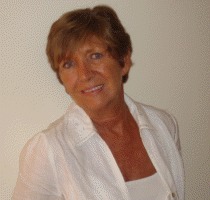 Enfys lives in the West Midlands region of the UK. They also have a house in Florida, and spend three months in each place.
Enfys writes, "I have two darling grandchildren, who are the light of my life. A lot of my time is spent card making, I love it. I am on two design teams, and I also design for Papercraft Inspirations Magazine which is a UK publication but is also on sale worldwide. So I have lots of commission work to keep me busy - and happy! Come over and see my work at Going-buggy"
I know I will be over to see Enfys' latest designs!
---
We deliver Anniversary Gifts to USA & UK, Europe, Australia

Contact Us | Privacy Policy | Affiliate Disclosure|Anniversary Blog
Terms & Conditions | About | Site Map