Traditional 30th Wedding Anniversary Gifts
Traditional 30th Wedding Anniversary Gifts For Your Parents
Traditional 30th wedding anniversary gifts for your parents will come in the shape of pearl, which is not a great gift option when you are choosing something for them to share.
If your budget allows you could look at pearl earrings for your mom and cufflinks for your dad but they are not really great parent type gifts. These gifts are great for a birthday but not great for an anniversary.
Parents worry about how much money their children have, they wouldn't want you to spend a fortune on them unless you had a fortune! The best bet is to find a gift that they would enjoy.
Shop Family Inspired Anniversary Gifts
Personalized Family Dates
$69.99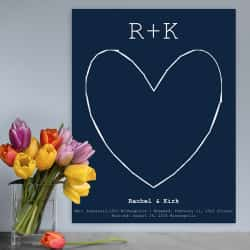 Your Love Story Canvas Art
$79.99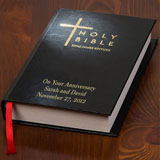 Personalized Leather Bible
$54.99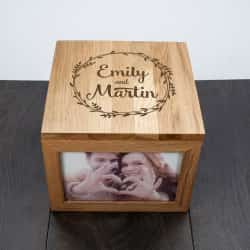 Anniversary Photo Box
$69.99
All parents love to have photos of their children and grandchildren so in fitting with the pearl theme have a pearl colored or mother of pearl photo frame and fill it with photos of the family. If they were not able to have decent photos of their wedding you could look at either having their original photos digitally enhanced or look at booking a photographer to take pictures of the family.
If you want to get the family together to celebrate their 30th anniversary then an anniversary party has to be the way to go. Call in as much help as possible from your family and friends and make it a night or day to remember.
You could theme your 30th anniversary party with pearl or liven up the party with a great eighties theme, a great decade for great music and fashion! Dig out the shoulder pads and find your leg warmers, it is time to party!
As well as a great anniversary party you may want to get everyone to get together and buy them a gift to mark the day.
---
We deliver Anniversary Gifts to USA & UK, Europe, Australia


Contact Us | Privacy Policy | Affiliate Disclosure|Anniversary Blog
Terms & Conditions | About | Site Map