Traditional 30th Anniversary
Traditional 30th Anniversary Gifts Homemade

Traditional 30th anniversary gifts are made with pearls, so you could look to buy a beautiful necklace or find great mother of pearl cuff links or you could look to make the gift yourself! Anniversaries are about love and spending time with the ones that you love and what better way to show how much you care than by spending time making something that will be a perfect gift!
With pearl being the theme of the celebrations you will need some pearls, you can find these at craft stores, bead stores and even thrift stores - just think how many pearl necklaces must have been damaged over the years and that need some new life!
Photo by Carly & Art

You could make new earrings, a bracelet or even a necklace, if you want a traditional piece then use silk thread to string them together, for a more modern look mix the pearls with other beads and ribbons, even buttons look beautiful!
Pearl buttons have long been a way to decorate simple items, again you can pick these up at a craft store or a thrift store, sew them on cushion covers, purses, handbags, scarves - anything really! Create pretty patterns with the buttons or have some fun spelling out '30' or 'Mr & Mrs'.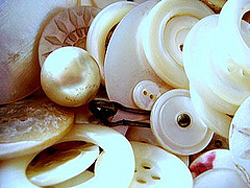 Use the pearl theme to decorate a frame with pearl opalescent paint, attach some pearl beads and then frame a picture of your anniversary couple either on their wedding day or more recently. You can also find mother of pearl mosaic tiles which you could also use to decorate.
Pearls also conjure up images of the sea, you could treat your anniversary celebrations to a seafood feast, decorate the table with pearl accents and enjoy a romantic evening. Or use the sea theme for the ultimate treat of an anniversary cruise!
Have a great 30th anniversary and if you have a great crafty 30th anniversary gift idea that you would like to share, let us know!
Craft Supplies
Have a look at all of the great Pearl Craft supplies available on Amazon

---
We deliver Anniversary Gifts to USA & UK, Europe, Australia

Contact Us | Privacy Policy | Affiliate Disclosure|Anniversary Blog
Terms & Conditions | About | Site Map