9 Month Anniversary Gift Ideas
Reaching the 9 month milestone in a relationship is a significant achievement and deserves to be celebrated in a special way.
Finding the perfect gift to commemorate this occasion can be a daunting task, especially if you want to avoid the cliché gifts that are commonly associated with anniversaries. Fortunately, there are plenty of unique and thoughtful gift ideas that can make your partner feel loved and appreciated.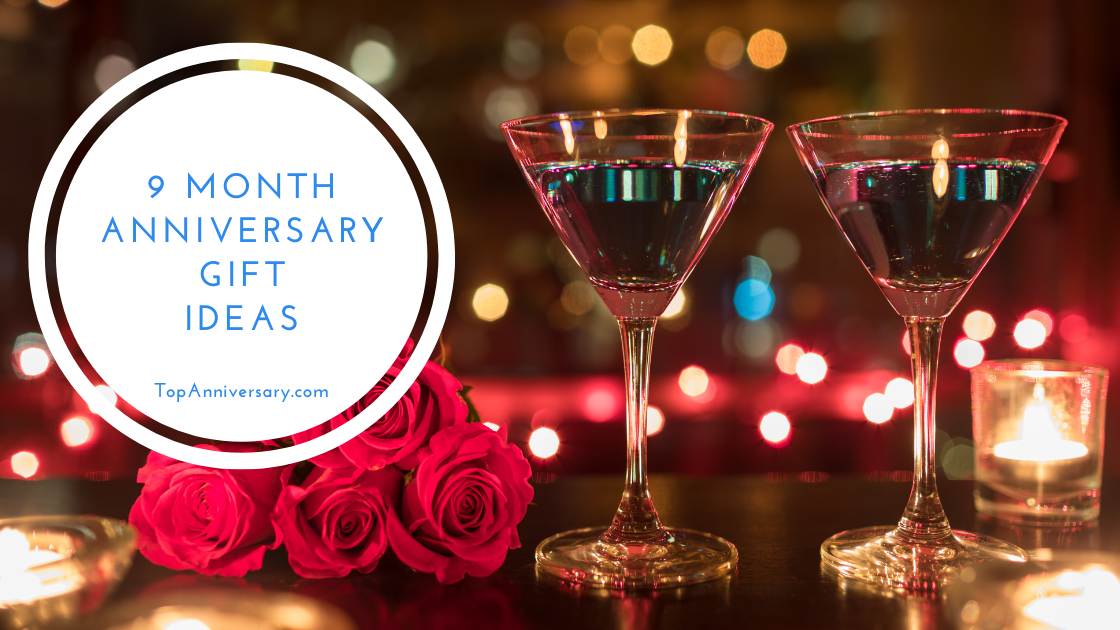 Whether you are in a long-distance relationship or living together, there are so many creative ways to show your affection and make your 9 month anniversary a memorable one. From personalized gifts to romantic experiences, the options are endless. The most important thing to consider is what your partner loves when choosing a gift, as it will show that you have put thought and effort into the present.

Also have a think about what your partner's love language is, in a new relationship it takes time to work out how your partner loves to show their love and also what makes them feel loved.
In this article, we will explore some of the best 9 month anniversary gift ideas that are sure to impress your significant other. Whether you are looking for a DIY gift or a luxurious experience, we've got you covered. So, sit back, relax, and let us help you find the best present to celebrate this special occasion with your partner.
Personalized Gift Ideas
Personalized gifts are a great way to show your significant other how much you care. These gifts are unique, thoughtful, and will be cherished for years to come. Here are some personalized gift ideas for your 9 month anniversary:
Customized jewelry: A piece of jewelry with your partner's name, initials, or a special date engraved on it is a beautiful and sentimental gift. You could also consider getting a matching set of jewelry for both of you.
Personalized photo album or Photo Book: A photo album filled with pictures of the two of you is a romantic and heartfelt gift. You could also add in some cute captions or quotes to make it even more special and your favorite photo of the two of you for the front cover. It's the start of your love story in photos.
Photo Gifts: Your favorote photo of the two of you in a personalized photo frame.
Customized phone case: A phone case with a picture of the two of you or a special message is a practical yet sentimental gift that your partner will use every day.
Another great personalized gift idea is a customized piece of artwork. You could commission a painting or drawing of the two of you, or create a personalized photo collage.
With the 9th Anniversary Gift being traditionally pottery you could find a cute coffee mug that you know that they will love. You can even get a 9 month anniversary mug.
Custom Star Map: this is the constellation of the stars on the night that you met.
Whatever you choose, make sure it's something that reflects your relationship and your love for each other.
DIY Gift Ideas
A unique anniversary gifts to give your partner on your 9 month anniversary could be making a DIY gift and its a great way to show your love and creativity. Here are a few ideas to get you started:
Love Letter: A heartfelt love letter is a classic and timeless gift that never goes out of style. Get some nice stationery and write down all the reasons why you love your partner. You can even add some personal touches like drawings or photos.
Love Notes: Write lots of cute love notes on post-it notes and leave them around the house or their car and bag for them to find throughout the day.
Photo Collage: Gather your favorite photos of you and your partner and create a collage. You can print them out and arrange them on a poster board or have them made into canvas prints - one for both of you.
Memory Jar: Fill a jar with little notes that contain memories of your time together. You can include things like inside jokes, special moments, and things you love about your partner. Decorate the jar to make it extra special.
Gift Basket: filled with all of their favorite things.
A Box of Date Ideas: Fill the box with lots of date night ideas that you know you will both love to do together. The more romantic gesture will be to have date nights that you know they will love more.
If you're feeling crafty, here are a few more DIY gift ideas:
Dried Flower Candle:A beautiful and romantic gift that you can make yourself. Follow a tutorial to make a candle and add some dried flowers for a special touch.
Custom Polaroid Memory Book: Print out some of your favorite photos in Polaroid style and create a memory book. You can add notes and captions to make it even more personal.
These DIY gift ideas are sure to impress your partner and show them how much you care. Get creative and have fun making a gift that is truly one-of-a-kind.
Romantic Gift Ideas
When it comes to celebrating your 9 month anniversary, a romantic gift is always a great choice. Here are some ideas to inspire you:
Love Letter: A heartfelt love letter is always a romantic gesture. Take the time to express your feelings and share your favorite memories together.
Couples Massage: Book a couples massage to relax and unwind together. This is a great way to spend quality time with your partner and show them how much you care.
Personalized Photo Album: Create a personalized photo album filled with pictures of the two of you. This is a great way to reminisce about your time together and show your partner how much they mean to you.
A cute teddy bear that can sit on their bed and remind them of you.
A spa at home experience where you have run them a bath, have rose petals and scented candles with a gift box of their favorite products.
Take the day off on your Anniversary Day so you can surprise them and whisk them away for a romantic day.
Another romantic gift idea is to plan a surprise date night or a series of special date nights. Here are some ideas:
Candlelit Dinner: Prepare a romantic dinner at home with candles and soft music.
Outdoor Picnic: Pack a picnic basket with your favorite foods and enjoy a sunset picnic in the park.
Star Gazing: Find a secluded spot and spend the night gazing at the stars together.
Romantic Evening at Home: watch a romantic movie and cuddle up on the couch.
Remember, the most important thing is to show your partner how much you love and appreciate them. Choose a gift that is meaningful and thoughtful, and you're sure to make your 9 month anniversary a memorable one.
Best 9 Month Anniversary Gift Ideas
Thoughtful Gift Ideas for 9 Month Anniversary
Personalized Photo Album filled with your memories
Customized Jewelry with both of your initials or special date
Handwritten Love Letter expressing your feelings
Framed Artwork that you both love
Favorite Book or Movie that you can enjoy together
Creative Anniversary Gift Ideas
DIY Anniversary Scrapbook filled with your milestones
Couple's Cooking Class to learn a new skill together
Personalized Memory Game with your favorite photos
Adventurous Experience like bungee jumping or zip lining
Unique Subscription Box tailored to their interests
Practical Gift Ideas for 9 Month Anniversary
Stylish Watch or Jewelry that they can wear daily
Home Decor Item that you can enjoy together
Tech Accessory to enhance their daily life
Fitness Gear to support their active lifestyle
Personalized Mug or Tumbler for their morning coffee or tea
Romantic Gift Ideas for 9 Month Anniversary
Weekend Getaway to a cozy cabin or romantic hotel
Candlelit Dinner at a fancy restaurant or at home
Romantic Picnic with their favorite food and wine
Spa Day to pamper and relax together
Love Coupons that they can redeem for romantic gestures
Your First Milestone Anniversary
It's not long now until your First Anniversary and as time flies when you are having fun it might be an idea to have a think about cute anniversary gifts for this milestone!
Traditionally your 1st year is celebrated with paper and there are lots of 1st Year Anniversary Gifts here to help you find the best gift.
Consider their personality, interests, and hobbies. Also, think about what they would appreciate and find meaningful.
No, the thought and effort you put into the gift is more important
You don't have to spend a lot on a 9 month Anniversary Gift to make it memorable, instead have a look at spending time together and doing the things that you like to do and your gift can be a homemade Anniversary card with flowers or a cute mug to fit with the pottery theme.
This depends on your partner and what they would like to receive.
Definitely ok to repeat gifts, especially if they loved them first time round.
---
We deliver Anniversary Gifts to USA & UK, Europe, Australia

Contact Us | Privacy Policy | Affiliate Disclosure|Anniversary Blog
Terms & Conditions | About | Site Map