37 Year Anniversary Gift Ideas
Are you looking for a unique way to celebrate your 37th wedding anniversary?
Whether you're looking for the perfect gift to surprise your spouse or planning a special celebration, there are plenty of creative ideas to make your anniversary unforgettable. From traditional alabaster gifts to modern alternatives, there are many ways to show your love and appreciation for your partner.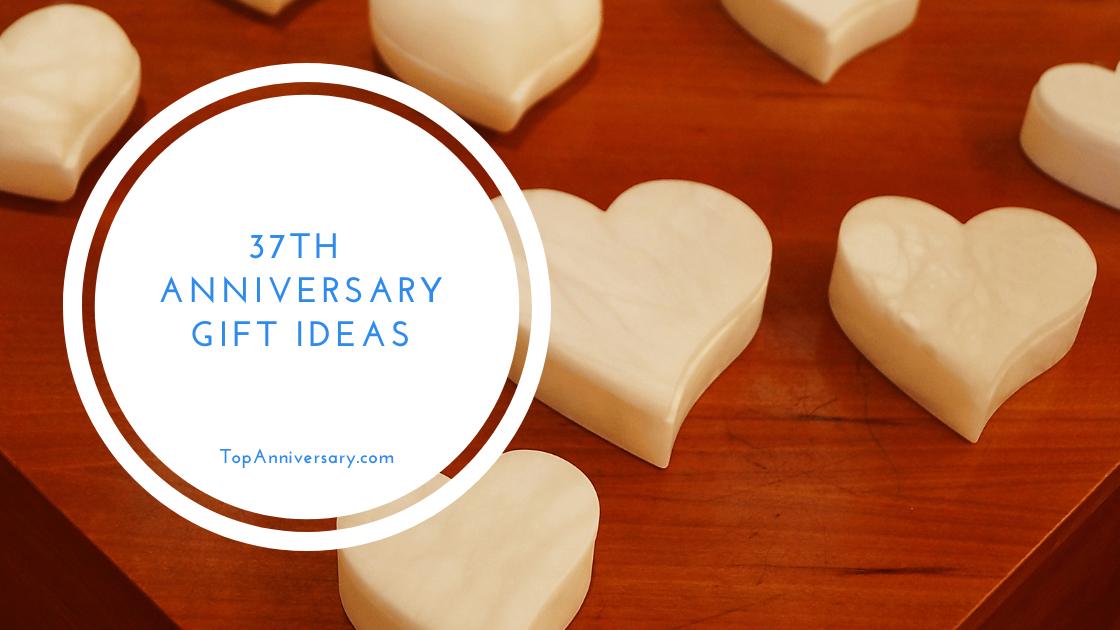 Alabaster is a traditional material for the 37th wedding anniversary gift. This beautiful stone is known for its translucent appearance and delicate texture, making it a popular choice for sculptures and decorative items. If you want to stick to tradition, consider giving your partner an alabaster vase, candle holder, or jewelry box. 
On the other hand, if you're looking for more modern gifts, there are plenty of other options to choose from, such as a state-of-the-art e-reader filled with their favorite books, a romantic weekend getaway to somewhere you have always wanted to go, or a personalized photo album.
Whatever you choose, make sure it reflects your love and commitment to each other.
37th Anniversary Gift Meaning
Alabaster makes the ideal 37th Anniversary Gift as some believe that it can absorb negative energy as well as provide connections between spirituality and the world we live in. It represents purity and hearts carved in Alabaster were often given as gifts to show how much love and admiration they have for the person.
Traditional and Modern 37 Year Anniversary Gift Ideas
Congratulations on reaching your 37th wedding anniversary! This is a significant milestone in your marriage, and you should celebrate it with a special gift. The traditional gift for a 37th anniversary is alabaster, while the modern gift is a watch. Here are some ideas to help you choose the best anniversary gift:
Traditional Gift Ideas
Alabaster is considered to be the traditional gift for your 37th Anniversary as it is a traditional material but it is the symbol on the modern gift list and gemstone lists.
It is a stunning material and naturally is a creamy white color, although it can be dyed and it has been used since ancient times as it is easily carved,
Pair of Alabaster Candlesticks: Alabaster candlesticks are a classic and elegant gift that will add a touch of sophistication to your home. They can be used to create a gentle, diffused glow that will set the mood for a romantic evening. You can also use them to display dried flowers or branches.
Alabaster Jewelry: Jewelry is always a great gift idea, and alabaster jewelry is no exception. You can find beautiful necklaces, bracelets, and earrings made from this delicate stone. For a personalized touch, consider having the jewelry engraved with your spouse's initials or a special message. A pendant of Alabaster could either be on a sterling silver, or stainless steel chain or a leather chord for a more relaxed style. Alabaster is also the 37th Wedding Anniversary gemstone, there is lots of choice at novica if you are looking for a handcrafted piece or you will always find pieces on Amazon too.
Alabaster Figurines: Alabaster figurines are a unique and thoughtful gift that your spouse will cherish for years to come. You can find figurines of animals, people, and other objects that will suit your spouse's interests.
Pair of Alabaster Lamps: Just like the candlesticks the Alabaster Lamps will give a warm glow to your living room or either side of your bed. If you follow Feng Shui it's always a good idea to have matching bedside tables and the lamps will be part of that too, matching signifies balance and equality between the two of you. 
An Alabaster Obelisk always looks good displayed in a study or on your desk, they are the type of ornament that looks both modern and traditional at the same time. Plus it makes a great conversation piece.
Alabaster Chess Set: Perfect if you both love to play and it also will look amazing in your home.
Alabaster Bookends: Bookends are practical - they stop your books from falling off the shelf and they also look great which is a double win and therefore perfect for an Anniversary gift.
Modern Gift Ideas
Watch: A watch is a practical and stylish gift that your spouse will use every day. You can choose from a variety of styles, including dress watches, sports watches, and smartwatches. For a personalized touch, consider having the watch engraved with your spouse's name or a special message.
Technology: If your spouse is a tech enthusiast, consider getting them a new gadget or device. You can choose from smartphones, tablets, laptops, and other electronics. The thing with tech gifts is that if they are very in to them then they will have either already bought it for themselves or they will know exactly the one that they want. It makes it an easy gift buying experience if that is the case! For a personalized touch, consider getting a custom case or skin with your spouse's initials or a special message.
Experience Gifts: Instead of a physical gift, consider giving your spouse an experience gift. You can plan a romantic weekend getaway, a spa day, or a cooking class or a surprise Anniversary Date. This is a great way to create lasting memories and strengthen your bond.
Themed 37th Wedding Anniversary Gifts
Although Alabaster is a wonderful gift theme you may want to look at choosing a gift you know they will love and that fits with the overarching white theme of Alabaster.
Just think it could be a white bouquet of flowers, or framed wedding photos in a White Alabaster frame or a white frame, a beautiful piece of jewelry with white beads.
And you can also look to the year that you were married to find the perfect gift.
This could be a reprint of the newspaper from the day you were married.
A copy of the blockbuster movie from the year they were married.
Tickets to see their favorite band that they loved to see when they were first married.
You could even recreate dates from earlier anniversary years that you loved.
In conclusion, whether you choose a traditional or modern gift, the most important thing is to show your spouse how much you love and appreciate them and the years of happiness you have shared together.
Choose a gift that reflects their personality and interests, and don't forget to add a personal touch to make it extra special.
How To Celebrate Your 37th Anniversary
Celebrating a 37th anniversary provides a chance to commemorate the years of togetherness or accomplishment. Here are some ideas to make the occasion memorable:
Plan a special dinner or outing: Arrange a romantic dinner at a favorite restaurant or prepare a delicious meal at home. Alternatively, you could plan a day trip to a location that holds sentimental value or explore a new destination together.
Renew your vows or commitments: If celebrating a marriage anniversary, renewing your vows can be a heartfelt gesture. For professional achievements, reaffirming your commitment to the goals and values can be a powerful way to mark the occasion.
Create a memory book or video montage: Compile photographs, mementos, and significant moments from the past 37 years into a beautiful memory book or a video montage. This will serve as a nostalgic keepsake that can be cherished for years to come.
The 37th Wedding Anniversary gemstone is Alabaster, a natural white stone that can be easily carved into beautiful gifts, jewelry, pendants and vessels.
There isn't a 37th Wedding Anniversary flower but instead you could have a bouquet of thirty seven flowers or a bouquet of white flowers to represent the White Alabaster symbol.
Using the theme of Alabaster for your romantic getaway there are a number of beautiful destinations where you find Alabaster; Tuscany in Italy, Egypt, Nottingham in England, Wales, Aragon in Spain, Tecali in Mexico. Plus if you want to keep your getaway closer to home you can also find Alabaster in California, Utah, Arizona, Colorado and Virginia.
---
We deliver Anniversary Gifts to USA & UK, Europe, Australia

Contact Us | Privacy Policy | Affiliate Disclosure|Anniversary Blog
Terms & Conditions | About | Site Map