Unique 25th Wedding Anniversary Gifts
Unique 25th Wedding Anniversary Gifts
Unique 25th Wedding Anniversary Gifts can be hard to find, so we have done all the hard work for you!
The silver symbol represents the shining love that you have for each other after 25 years.
Couples that have been married 25 years are cool, they were married in the nineties - the decade of great music and have enjoyed decades of some amazing design innovations. So their Silver Anniversary Gifts need to be pretty cool.
Silver Anniversary Cufflinks



Cufflinks can be an unusual silver anniversary gift with hidden messages and photos.

You can also look at personalizing cufflinks with their initials, your wedding date or maybe even the co-ordinates of where you both met.

Take a look at our cufflinks available to buy in our Anniversary Gifts Store today.
Silver Anniversary Jewelry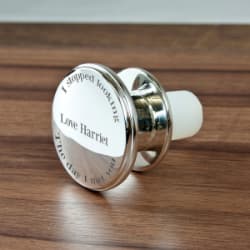 Engraved Silver Wine Stopper
$39.99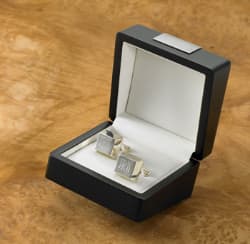 Silver Anniversary Cufflinks
$53.99



This is a beautiful and modern silver charm bracelet and can be personalized with your initials and have photos added to it too.

A truly beautiful gift that will be treasured forever.
Sometimes though it would be nice to go back to a less busy world and many couples love the vintage look. They may even have a dinner set that they received for a wedding present that is missing a few pieces, if you are really lucky and it is a popular design then you may find the pieces in a thrift store or you could contact the manufacturer to see about replacements.
Thrift stores and antique stores are also great for finding silver trinkets and unusual items and the beauty of silver is that it can be polished to look just like new, so don't walk away from a tarnished piece of silver just because of the way it looks.
Of course not everyone is into vintage, many couples live and breath new technologies and there is bound to be something that they have dreamed of. Do they love fresh coffee? Then look at finding a great new coffee machine. Are they into their movies? Then do they have all the latest surround sound stuff or even a popcorn maker for movie nights?




Lots of silver coffee machines at Amazon
Just think 25 years ago cell phones and computers were definitely not the norm, now we probably don't think we can live without them, how times have changed!

25th wedding anniversary gifts don't get much cooler than having a silver iPhone, and matching his and hers, now we are talking!

Plus you can personalize them at Zazzle too.
---
We deliver Anniversary Gifts to USA & UK, Europe, Australia

Contact Us | Shipping & Returns |Privacy Policy | Affiliate Disclosure|Anniversary Blog
Terms & Conditions | About | Site Map