Home > Cards & Quotes > Oscar Wilde on Marriage
Oscar Wilde Quotes On Marriage
There are many famous Oscar Wilde quotes on love, relationships and marriage and some are more romantic than others!
You could use them for
Anniversary Cards, 
engraved on your Anniversary Gift
or as part of your Anniversary Speech.
And as we celebrate love, marriage and relationships here are lots of beautiful quotes from books and letters by Oscar Wilde.
"The only person you need in your life is the person who shows you he needs you in his"
"You don't love someone for their looks, or their clothes, or for their fancy car, but because they sing a song that only you can hear"

"The proper basis for marriage is a mutual misunderstanding."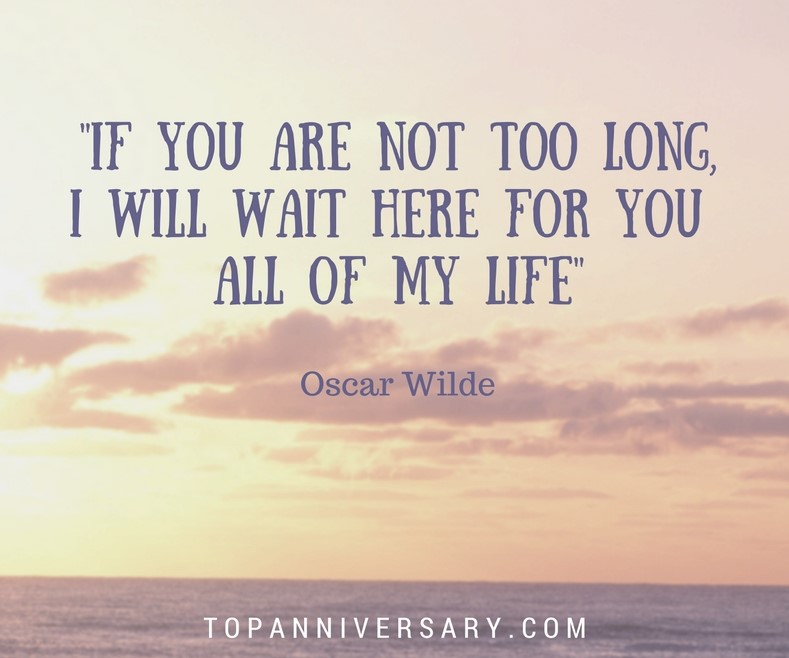 "Women are meant to be loved not understood"

"It's beauty that captures your attention, it's personality that captures your heart"

"The very essence of romance is uncertainty"
"Life is one fool thing after another, love is two fool things after each other"
"The man who says his wife can't take a joke, forgets she took him"
"Who, being loved, is poor?"

"Keep love in your heart. A life without it is like a sunless garden where the flowers are dead. The consciousness of loving and being loved brings a warmth and richness to life like nothing else could bring."

"Never love anybody who treats you like you're ordinary"

"Ultimately the bond of all companionship, whether in friendship or marriage, is conversation"
Include Oscar Wilde Quotes On Your Gift
Using an Oscar Wilde quote on your Anniversary Gift will add a huge amount of romance, his words are poetic and full of love and are classic. Years from now they will still be as beautiful.
Here are some lovely Anniversary Gifts that have space for a romantic Anniversary quote.
---
We deliver Anniversary Gifts to USA & UK, Europe, Australia

Contact Us | Privacy Policy | Affiliate Disclosure|Anniversary Blog
Terms & Conditions | About | Site Map