Ebay Anniversary Rings

How to buy the right one!
Buying an Ebay anniversary ring is just like buying anything else online, you are likely to get a better price, you may even get a better choice but you need to be careful. It is a good idea to do lots of research before you buy, check out the prices that some of the anniversary rings are sold for - you will then know if you have a good price and make sure you check the sellers reputation. You will find stats for the seller's reputation on the right column under Buy Safely, if you click on the detailed feedback you will find all of the comments from previous buyers. Sometimes sellers will improve their scores by buying a lot of small priced items themselves and receiving lots of good feedback from their sellers, so make sure you check that the comments are for selling and not for buying.
To protect yourself on your purchase make sure you buy through Pay Pal or with a credit card, this way your payment is protected. Some sellers will offer a money back guarantee, you will find this under the description.
Take a careful note of the description, there are still bargains with Ebay but you want to make sure you are buying what you want, not a cheap imitation.
As with all online purchases of rings you will need to know your ring size, if you don't and you have the chance to nip into a local jewelers have your measurements taken there. Or cut a long piece of paper and place it around your finger, mark with a pencil and then measure the strip. Use the guide below to work out what your ring size is.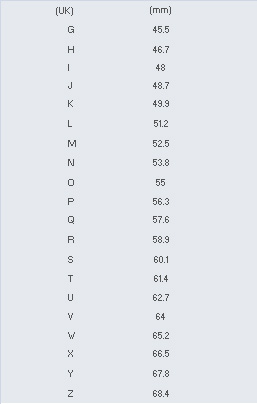 If you fall in love with a particular ring that is not your size check with the seller if you can resize it, you should be able to do this at any local jewellery store and that way it will fit perfectly.
There are thousands of Ebay anniversary rings to choose from, both vintage and new, think about where this ring will be worn, if it is with your engagement ring and wedding ring then it will need to fit and be of the same metal. If you already have platinum then your anniversary ring will need to be platinum as well.
---
We deliver Anniversary Gifts to USA & UK, Europe, Australia

Contact Us | Shipping & Returns |Privacy Policy | Affiliate Disclosure|Anniversary Blog
Terms & Conditions | About | Site Map