The Best Annivesary Instagram Post Captions 
By choosing to share your Anniversary Instagram post to the world on your special day you want to show everyone how much you love your husband, wife, parents, grandparents or friends because every Anniversary deserves a lovely post with the perfect caption. Your Anniversary is a great reason to share the happiness of marriage with your friends and family, plus it's a great time to tell them how much their support and love means to you.
There are two must haves to your Instagram post and they are
a great photo, lots of beautiful pictures or video
and the words Happy Anniversary at either the beginning or the end of your post.
Your photo or photo could be the two of you from your Wedding Day, when you first met, your favorite photo, both of your Anniversary Cards, your wedding band, your favorite place.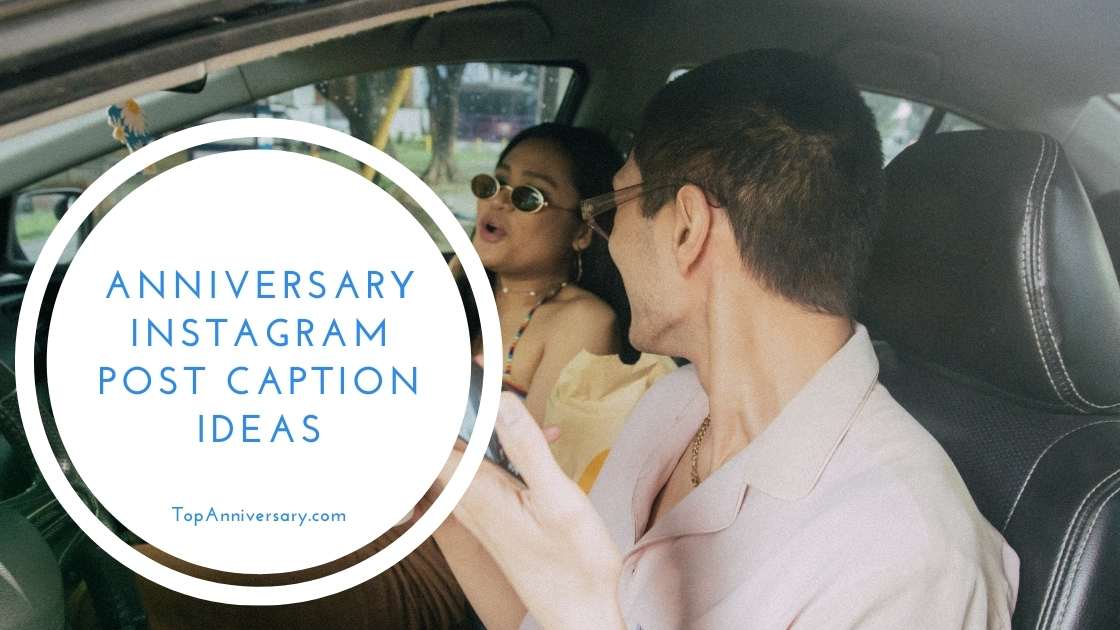 This post is all about the celebration of love. There is no perfect anniversary caption apart from the one that is from the heart but we know it can be overwhelming to find the right words when you want to get it just right for your love on your Anniversary Day, here we have inspiration to help get you started.
First Anniversary Captions
Wedding Anniversary Captions
Month Anniversary Captions
Anniversary Quotes to use in your Instagram Post
Funny Anniversary Captions
Song Lyrics for Inspiration
First Anniversary Captions
If it is your first wedding anniversary you could use a photo from your wedding or one of your frst when you started dating.
One year ago today, forever to go.
This day was truly one of the best days of my life. Being surrounded by family and friends to celebrate our marriage, will forever stay in my heart.
Happy 1st Anniversary, then your Wedding Date and your initials A + B Forever
It's Our First Anniversary. A year of celebrations and so much love and laugher. A year since I made the best decision and married my true love.
First of many years of wedded bliss, thank you for making me a better person, for your love over the past year and for being the most amazing wife. I Love You
And just like that a whole year since we said I Do. They say that time flies when you are having fun and that is so true. I love you. Happy Anniversary my love
My first time of many to post a Happy Anniversary message for my husband, thank you for being the most beautiful person and showing me how wonderful this first year could be. Here is to many more. I love you.
The good things in life are better with you.
You are my today and all of my tomorrows
Wedding Anniversary Captions
The great thing about writing an Anniversary post on your special day is that you will have lots of wonderful photos to choose from, you could post lots or add a collage of all your favorites.
If you have used a photo of you both hugging you could write about how much you love to be in their arms because it is where you find peace and feel at home.
If you are celebrating an anniversary of many years your post could be about how much you love them and how you look forward to being with them for the rest of your life. You make the perfect pair.
Five years since we said I Do and for ten years we've held each other's hands to walk side by side on our journey through life, with the certainty that we'll always be there for each other, supporting each other in difficulty and celebrating the joy in happy moments.
In you life has given me the best gift, my best friend to spend our lives together.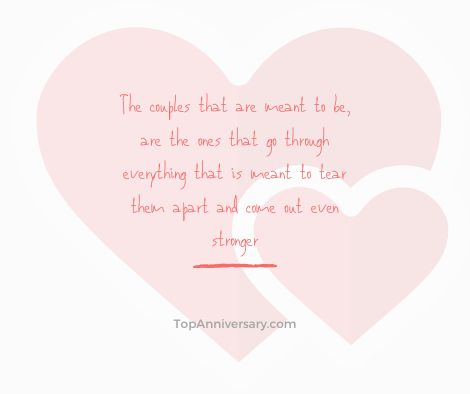 Love you to the moon and back. Happy Anniversary to my better half.
You are my best friend, my everything and the love of my life. I Love You! Happy Wedding Anniversary.
Today is our Four Year Anniversary! Happy Anniversary to my fun, super supportive and gorgeous husband.
Celebrating 45 year's together, Happy Anniversary to my wonderful parents.
Celebrating 20 years together. Happy Anniversary! Thank you for the best years of my life, love you so much.
Here's to another year of being together and exploring new places. Time flies when you are having fun.
A long time ago I was l was lucky enough to find my soul mate, today we celebrate 30 years of marriage.
25 years ago our love story began, Happy Anniversary my love
20 years ago today, you made me the happiest man on earth and I still feel like I am the luckiest. You make my life complete. Happy Anniversary
Wishing my beautiful wife a very Happy Anniversary
The most beautiful moments in life have been because of you, Happy Anniversary my love.
You and Me are my favorite love story
Month Anniversary Captions
Every month is a relationship milestone even after years of togetherness, when you are lucky enough to have found the love of your life you want to celebrate.
This day is special for us.
It is the day that two souls met.
Happy 9 month Anniversary to my soul mate
30 days down and forever to go!
Happy one month Anniversary
1 month married to my best friend
1 month married to my partner in crime
1 month being forever yours
1 month of adventures
1 month of the happiest day of my life
3 months flew just like that!
60 days of smiles, Happy 2 month Anniversary!
Anniversary Quotes To Use on Your Anniversary Post
"Let there be spaces in your togetherness, And let the winds of the heavens dance between you. Love one another but make not a bond of love: Let it rather be a moving sea between the shores of your souls. Fill each other's cup but drink not from one cup. Give one another of your bread but eat not from the same loaf. Sing and dance together and be joyous, but let each one of you be alone, Even as the strings of a lute are alone though they quiver with the same music. Give your hearts, but not into each other's keeping. For only the hand of Life can contain your hearts. And stand together, yet not too near together: For the pillars of the temple stand apart, And the oak tree and the cypress grow not in each other's shadow." Kahlil Gibran - The Prophet
"It is wrong to think that love comes from long and perservering courtship. Love is the offspring of spiritual affinity and unless that affinity is created in a moment, it will not be created in years or even generations." Kahlil Gibran - The Broken Wings
Life is short, break the rules. Forgive quickly, kiss slowly. Love truly, laugh uncontrollably, and never regret anything that makes you smile. - Mark Twain
To get the full value of joy you must have someone to divide it with. Mark Twain
Piglet - How do you spell love? Winnie The Pooh "You don't spell it ... you feel it" A.A. Milne
A happy marriage is a long conversation which always seems too short."- Andre Maurois
"Marriage is not a noun; it's a verb. It isn't something you get. It's something you do. It's the way you love your partner every day." - Barbara De Angelis
"Love doesn't just sit there, like a stone, it has to be made, like bread; remade all the time, made new." - Ursula K. Le Guin, The Lathe of Heaven, 1971
Happiness doesn't lie in conspicuous consumption and the relentless amassing of useless crap. Happiness lies in the person sitting beside you and your ability to talk to them. Happiness is clearheaded human interaction and empathy. Happiness is home. And home is not a house - home is a mythological concept. It is a state of mind. A place of communion and unconditional love. It is where, when you cross its threshold, you finally feel at peace. - Dennis Lehane
The best and most beautiful things in the world cannot be seen nor even touched, but just felt in the heart. Helen Keller - The Story of my Life
"Marriage is a mosaic you build with your spouse. Millions of tiny moments that create your love story."- Jennifer Smith
"The secret of a happy marriage remains a secret."- Henny Youngman
"Chains do not hold a marriage together. It is threads, hundreds of tiny threads, which sew people together through the years." Simone Signoret
Funny Anniversary Captions
Funny captions work well when you pair them with a great photo of you both being silly.
Being married to me is the real anniversary gift that keeps on giving
Happy Anniversary to my partner in crime from the best wife/husband
Thanks for being the best option to come in to my life
Here is to another year of not killing each other, may we have many more!
I want to spend the rest of my life with you but some days I want to kill you,
but I won't because I'd miss you too much!
Happy anniversary to my favorite person to warm my feet on.
You are my favorite husband so far ...
Happy Anniversary! Thank you for six wonderful years full of love and letting me take cheesy pics of us everywhere we go, I love you!
Let's grow old and very annoying together
A successful marriage is when you find someone who likes the same weird stuff you do.
Happy Anniversary to my favorite weirdo.
My husband is kind of a big deal and very gorgeous, plus he has me. Lucky man!
Song Lyrics For Inspiration
We all have our favorite song and maybe there is an extra special one that is your song.
It could be a classic - It Started With A Kiss by Hot Chocolate
Or Ed Sheeran with One
"Take my hand and my
Heart and soul, I will
Only have these eyes for you"
Or also with Tenerife Sea
"Cause all that you are is all that I'll ever need"
One of the most popular songs is Anniversary by Tony! Toni! Tone!
"All I really want to say, my darling
Today is a special day we call our own
So take me in your arms and hold me
And tell me you love me, and I'll be there
For you
P.S. I Love you by The Beatles
Treasure these few words
Til we're together
Keep all my love forever
P.S. I love you
You, you, you
As I write this letter
Send my love to you
Remember that I'll always
Be in love with you
Because You Loved Me by Celine Dion
For all those times you stood by me
For all the truth that you made me see
For all the joy you brought to my life
For all the wrong that you made right
For every dream you made come true
For all the love I found in you
I'll be forever thankful, baby
You're the one who saw me through, through it all
Anniversary Captions for your Parents and Grandparents
Celebrating the love that your Mom and Dad and Grandparents share on their Anniversary is lovely as it shows everyone how marrying the right person makes a good marriage stand the test of time. Plus older Grandparents find social media fascinating, especially if you ask everyone to join in wishing them a Happy Anniversary. They will be bowled over by messages from people they don't know.
The best anniversary captions for them will be about how much you love them both.
Happy 40th Anniversary to the best parents in all the world, thank you for your love and guidance and wishing you the best time celebrating.
Join me in wishing my Grandmom and Pops a very Happy 60th Anniversary, married in a snowy Brooklyn, NY sixty years ago, they said I Do.
Happy Anniversary Mom and Dad, may your day be filled with blessings and wishing you many more years of love and togetherness.
Join me on this special occasion to wish my favorite couple a very Happy Anniversary from your favorite daughter.
Real love stories are magical, just like my Grandparents who are celebrating their 50th Anniversary, you are the best.
---
We deliver Anniversary Gifts to USA & UK, Europe, Australia

Contact Us | Shipping & Returns |Privacy Policy | Affiliate Disclosure|Anniversary Blog
Terms & Conditions | About | Site Map