The Perfect Anniversary Gift After Baby
First, before we start thinking about anniversary gifts for after your baby has been born...
     A massive Congratulations!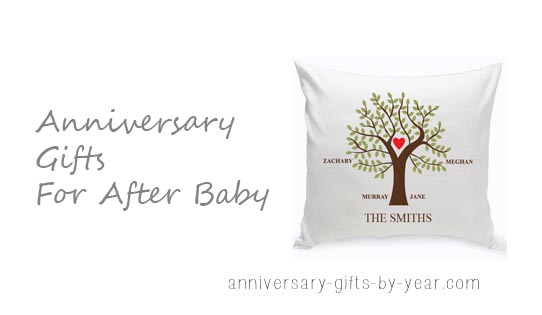 Depending on how close it is to when your little one arrived there have probably been some times of feeling overwhelmed by the love you have for your newborn and the lack of sleep!

But now it is your Anniversary coming up and although it may feel not as important as your new baby, it is important to celebrate the two of you.
After all, your little one wouldn't be here if you hadn't met and fallen in love.
Unless you have the best babysitters in the world it is quite likely that this Anniversary will be spent at home.
And you really don't want to be, nor do you have the time to be spending hours in the kitchen preparing the most romantic of feasts.
If you are the grandparent or friend of the Anniversary couple offering to babysit for them on their Anniversary would be the best gift ever.
You could print one of our Anniversary checks so you can add your baby sitting gift card to your card.
Celebrating Your Anniversary At Home
v  If you want a romantic meal with a newborn baby, we recommend you order a takeout. Find some candles and have your Anniversary meal and expect to be interrupted, if you manage to get through one course then you are doing well!

v  Movies are great if your baby is sleeping through the night but not so great if you are have to get up and check on them every few minutes. You may want to have them in their crib in teh same room as you for tonight's celebrations so you can all be together.
v  A long romantic walk with the pushchair can also be quality time together if your baby is anything like ours used to be – they were often asleep before we had got to the end of our road.
v  The same goes for a little drive to one of your favourite places, time it for when they have their morning or afternoon nap and you will get a little time to yourselves.
v  And that really goes for all of your Anniversary celebrations for after a baby is born, time them all between naps – or at least make sure you have some time to rest too.
v  Of course this only works if you have one baby, older children don't have so many naps so make the most of just having one!
Anniversary Gift Ideas For After Baby
When it comes to Anniversary Gifts ones that celebrate the two of you as a couple are the best.

An Anniversary canvas remembering your wedding day

§  With the Front page of the newspaper from your wedding
§  Special dates showing your own Love Story
Romantic Anniversary Gifts
 A cute pillow or pillow cases for your bed.
You can personalize pillow cases with your names and have cute phrases
Always Kiss Goodnight, 
Love 
and Mr and Mrs are popular. 
v  A gift that lasts and shows how much you love them is the best.
Family Anniversary Gifts
As well as celebrating you both as a couple, the birth of a baby is the start of your family and there are lots of Anniversary gifts that celebrate you as a family.

| | |
| --- | --- |
| You could start your family tree with the two of you at the top of the tree and have spaces to add new members as the years go by. | |
Marriage After Baby
Having celebrated two wedding anniversaries soon after our babies were born we wish you both a happy and relaxing one, where hopefully you get a good night's sleep! And some time for each other, we promise it will be worth it!
If you are looking for advice on marriage after baby check out this article on Parenting.com
Plan time for each other, this may have to be when your baby is sleeping
Realize that you will both have different parenting styles and that they may not always work!
Do something sweet for each other during the week ... it could be as simple as running a bubble bath, or letting them have a lie-in or leaving them a love note to find.
Enjoy this time, little ones become big kids far too quickly.
---
We deliver Anniversary Gifts to USA & UK, Europe, Australia

Contact Us | Privacy Policy | Affiliate Disclosure|Anniversary Blog
Terms & Conditions | About | Site Map