2nd Anniversary Gifts for Couples
2nd Anniversary Gifts For Couples

2nd Anniversary Gifts for both of you are:
Traditionally - cotton
Modern - china
Gemstone - Garnets
When you are choosing an Anniversary Gift for both of you, you want a gift that will last and remind you of your two years together.
A personalized canvas print is made from cotton and will make you smile everyday. Here are a collection of personalized canvas available to buy in our store today.
Personalized 2nd Anniversary Canvas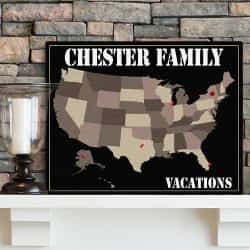 Your Vacation Map
$69.99
Cotton Anniversary Gifts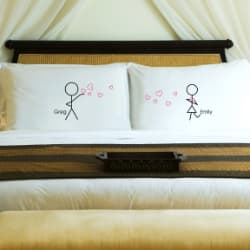 Love Hearts Pillowcases
$49.99
Romantic 2nd Anniversary Themed Celebrations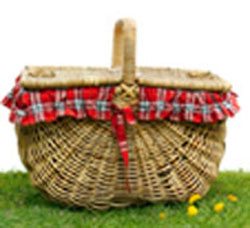 Traditionally your 2nd anniversary gifts will be made of cotton and what better way to celebrate than having a romantic anniversary picnic. You could invite guests but you don't have to, sometimes you need some space to celebrate your anniversary on your own.
Where does the cotton part come in? Well if you are having a romantic picnic things need to be done right and that means a proper picnic basket, a picnic rug, a pretty cotton tablecloth for all of your yummy goodies and maybe even glasses and a bottle of Champagne, - well you are celebrating!
Of course if you want to go the whole way then look to your modern anniversary list which is china and pack the cups, saucers and plates!
Now with all of that lot you may not be able to go too far, it's not like you could hike up a mountain with that lot strapped to your back - well some men would but they may not end up in one piece - that's the plates and the men! You may end up having a great picnic at home, inside on the lounge floor or tucked away in the corner of the backyard. If you stay at home then make sure the picnic is super special - all favorite goodies must be included, you could get each other to bring the surprises!

If you manage to get everything packed in one picnic bag then you could venture out, where would you want to go on your 2nd wedding anniversary? Where you proposed? Where you met? Or somewhere new? Wherever you go it will be lovely, even a picnic in the car in the rain is fun when you have prepared your picnic with so much love and care.
Don't forget to take lots of photos to keep for years to come, it is always fun to look back on previous anniversaries and remember the fun you had.
---
We deliver Anniversary Gifts to USA & UK, Europe, Australia

Contact Us | Shipping & Returns |Privacy Policy | Affiliate Disclosure|Anniversary Blog
Terms & Conditions | About | Site Map