Anniversary Gifts
›
Husband
› Exciting Days Out
Exciting Anniversary Gift Ideas For Your Husband
Anniversary gift ideas for your husband can be exciting and if you are in the mood too you could join in a thrilling day out!

Great American Days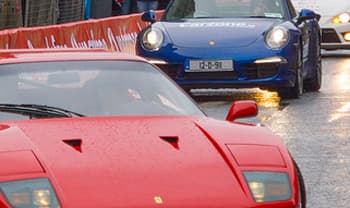 If your husband loves his car then a racing day would be his idea of heaven. You could join in and race together or you could nominate yourself as the official photographer! Either way you know he will love his day!

Or how about a romantic hot air balloon trip?

If that's not exciting enough for your man then how about being a fighter pilot for the day or Indy car racing!

More information at Great American Days
Sporting Days

For most men their ideal day will involve sport, food and beer. Not wanting to turn your other half into a Homer Simpson, it is probably best for your own sanity to look generous but still be in control.
There are those that would love a season ticket to see their favourite team, but do you really want them disappearing off every other weekend and more if they want to see away games? This question is irrelevant if you are as mad (or more) about them as he is, your perfect gift will be joint season tickets, matching team kits and as many souvenirs as possible! For the rest of us it is time to introduce the wow factor! Phone up the team's booking office and investigate how much it would cost for a hospitality box, you may need to go for a quieter game, one during the week or a friendly to keep your costs down. You will probably be nicely surprised as to the cost, especially if you invite his friends and ask them to pay their share! Some packages will come with drinks and a meal, that would be all boxes ticked!
An easy way to get hold of the sports tickets you need is to use ABC tickets, they have tickets for nearly every sporting game you can think of and a few you may never have heard of too!
---
Find Your Perfect Anniversary Gift
Contact Us | Privacy Policy | Affiliate Disclosure| Terms & Conditions | About | Advertise With Us | Site Map