30th Wedding Anniversary Decorations
30th Wedding Anniversary Decorations
Ideas For A Great Party
30th wedding anniversary decorations are surprisingly difficult to find, you can get loads for your 25th or silver and again for your golden, so instead you will need to be creative.
Shop 30th Anniversary Party Decorations
Your 30th anniversary is traditionally celebrated with pearls and this is a great start to your decoration ideas. This is the time to look at balloons in a new light, first they look just like pearls if you get the right color and they are also relatively inexpensive so you can fill the room with them! You can have clusters of pearlized balloons on the tables and even at the edges of the dance floor; you can do this yourself by hiring the gas canister, buying balloons and ribbon. Tie the balloons together in groups of 3 or more and have them at different heights.
You will also want to incorporate the number 30 into your decorations; this could be a large number 30 on the front door or as the focal point of the room. You can buy craft numbers and letters made from cardboard and wood, these you could decorate with pearl buttons or paint. You could also add the couple's initials as well.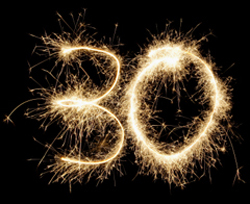 Photographs from the last 30 years are also a great way to get everyone chatting and laughing. "Do you remember when" and "What is that you are wearing?" plus a few "Who is that?" will always get the party started.
As well as decorating the room you will also want to think about centerpiece ideas, this could be one main centerpiece for the buffet table or if you are having a larger and more formal party then you will want one for each table.
Sweet peas are the 30th anniversary flower so a simple idea would be jars of sweet peas in the center of the table, this is perfect for a summer anniversary party. Mason jars are really popular as a vase for centerpieces, it gives a shabby chic look to your design.
Candles give a more formal look to your centerpiece, you can buy candle holders with pearls in the design or make your own. Alternatively, have pillar candles in different heights on a platter, surrounded with pearls - obviously not real ones unless you are feeling very extravagant but you can get pearl beads some are already strung together, these you could wrap around the candle base or have them loose scattered on the table. For a vintage look you could use pearl buttons.
If you get the chance to use 30th wedding anniversary decorations outside then have a look at those solar powered outdoor lights as there are quite a few round ones that look like giant pearls! Or you could have lots of outdoor lights to make the whole area look magical.
---
We deliver Anniversary Gifts to USA & UK, Europe, Australia

Contact Us | Privacy Policy | Affiliate Disclosure|Anniversary Blog
Terms & Conditions | About | Site Map