25th Wedding Anniversary Party Ideas
25th Wedding Anniversary Party Ideas
A 25th wedding anniversary party idea for you nineties lovers giving you the chance to relive your clubbing days whether you were into grunge, house or pop.
If you are celebrating your 25th anniversary it is time to get ready to party nineties style.
You will need to design your 90's invitations with maybe a club theme or a collage of your favorite photographs of you from the nineties, you could have "90s Disco" or "Who is still dancing to these nineties tunes?" on the front with the details inside the card.
You will need the date, time, place and dress code.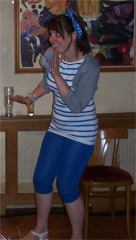 Most of the nineties party entertainment will come from your guests outfits, you can either hire a dj to bring you the nineties or hunt through your own classic collection! Dust off those tapes/cds and get ready to boogie. If you are going to have a DJ at the party make sure you check that they have enough nineties hits to keep you all happy. One recent 90's party we went to had a very young DJ who when I asked for a particular favorite had not heard of it! He said he wasn't from the nineties! So check before hand if that is your party theme, not that it stopped me dancing all night as you can see by the photo. Another thing to note is that although you may love the nineties not all of your guests will, so having a mix of music will work well.
Photographs from your wedding day and the nineties would be good to display, it might be best to copy the originals rather than damage your photos. Or you could turn them into a slideshow that is on a loop through the evening.
Decorate your room with classic 90s posters - bands and maybe headlines from the year you were married.
Plus you can't go wrong with some neon signs and you could cover one wall with blank paper so that everyone can graffiti their own Happy Anniversary messages.
There probably should be a disco ball to remind you of the early days of you dating!
Have a great time and don't forget to send us the photos!
90's Anniversary Party Supplies
Silver is also the theme for your 25th wedding anniversary and it works really well combining the two together or by itself, here are lots of silver 25th anniversary party ideas.
---
We deliver Anniversary Gifts to USA & UK, Europe, Australia

Contact Us | Privacy Policy | Affiliate Disclosure|Anniversary Blog
Terms & Conditions | About | Site Map