Anniversary Gifts
› 25th
25th Anniversary Gift Ideas

Find the Anniversary Gift you are looking for
Helping you find the perfect silver or 1980s themed gift and great 25th anniversary party ideas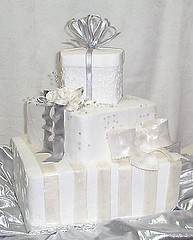 25th wedding anniversary ideas are based around the traditional and modern gift of silver. This is a big celebration and one that is celebrated the world over. The origins date back hundreds of years when husbands would give their wives garlands of silver as their gift.
And if you are anything like us you are probably wondering where on earth the last 25 years has gone?! The 1980s feel like yesterday but over the past 25 years a lot has happened.
In 25 years just think about all the new family and friends you now have to celebrate with, not forgetting the ones that have been with you since the beginning.

We have put together gift ideas for you and also some fun party ideas, it doesn't have to be a big party but this is a great excuse for one!
25Years Party Time

Your 25th wedding anniversary is a great excuse for a party and there will be lots of family and friends that will want to join you.
You could celebrate with silver or step back in time to the eighties!
Think glitter balls, neon socks, shoulder pads and even rara skirts, those were the days.
Contact | Privacy Policy